Pengaruh Fraksi Penguat Fly Ash dan Temperatur Cetakan terhadap Sifat Kekerasan dan Struktur Mikro pada MMC
Keywords:
Metal Matrix Composite, Aluminium, Fly Ash, Powder Metallurgy, Sintering, Hot Isotatic Pressure.
Abstract
Metal Matrix Composite is a metal composite that utilizes an aluminum alloy as a matrix in its fabrication and has a wide application in industry. Fly ash is a coal-burning waste at the steam power plant that contains a high enough reinforcement fraction in the form of alumina (Al2O3) and silica (Si). Process of making specimens using an amplifier the powder metallurgy method. Fly ash as reinforcement was varied in powder mixing by 5%, 10%, 15%, 20%, and 25%. The compaction process is carried out with hot isostatic pressure so that the powder becomes softer and makes it easier to compact. Effect of heating temperature on the mold varied at 250oC, 300oC, and 350oC to obtain a homogeneous bond. In the research conducted, the results showed that the hardness value of the specimen increased by 1.7% by 65.07 HRB at 10% fly ash reinforcement variation, then continuously decreased to 16.92% with a hardness value of 55.64 HRB in the reinforcement variation. Fly ash 25%. The results of scanning electron microscope observations show that the influence of the heating temperature of the mold provides an even distribution of particles at a temperature of 300oC. bonded particles between the matrix and reinforcement are better and at temperatures of 250oC and 350oC shows an uneven distribution of reinforcing particles and results in agglomeration of reinforcing particles in the specimens are The resulting product is brittle and causes a decrease in hardness in the variation of the fraction with fly ash content above 10%.
References
N. NAYIROH, "Teknologi material komposit,†Yogyakarta. Ebaltadiaksesdari www. ebalta. de/rs/datasheet/en, 2013.
V. K. SHARMA, R. C. SINGH, and R. CHAUDHARY, "Effect of flyash particles with aluminium melt on the wear of aluminium metal matrix composites,†Eng. Sci. Technol. an Int. J., vol. 20, no. 4, pp. 1318–1323, 2017.
I. W. L. SUPRAPTO, K. SUARSANA, and N. SANTHIARSA, "Efek Komposisi Dan Perlakuan Sintering Pada Komposit Al/(Sicw+Al2o3) Terhadap Sifat Fisik Dan Keausan,†J. Muara Sains, Teknol. Kedokt. dan Ilmu Kesehat., vol. 1, no. 1, pp. 36–43, 2017.
O. E. MANZ, "Coal fly ash: A retrospective and future look,†Fuel, vol. 78, no. 2, pp. 133–136, 1999.
B. WIDODO and A. SUBARDI, "Pengujian Sifat Mekanik dan Struktur Mikro Aluminium Matrix Composite ( Amc ) Berpenguat Partikel Silikon Karbida ( SiC ) dan Alumina (AL2O3),†pp. 295–303, 2019.
M. S. HAMZAH, A. SAM, and I. MUKKAS, "P-47 Pengaruh Fraksi Berat Fly Ash Pada Komposit Matrik Serbuk Limbah Aluminium Terhadap Sifat Kekerasan "Effect Of Fly Ash Weight Fraction On The Composite Of ", 2018.
T. RUSIANTO, "Hot Pressing Metalurgi Serbuk Aluminium,†J. Teknol., vol. 2, pp. 89–95, 2009.
J. GINTING, "Pembuatan Komposit Matrik Logam Berpenguat Keramik (Al/SiCp) Dan Karakterisasinya Melalui Metode Metalurgi Serbuk,†2009.
S. MALIAR, D. Jurusan, T. Sipil, M. Jurusan, and T. Sipil, "Jurnal Momentum ISSN : 1693-752X Pengaruh Penggunaan Fly Ash Sebagai Pengganti Agregat Terhadap,†vol. 17, no. 1, pp. 42–49, 2015.
D. SCITI, J. VICENS, and A. BELLOSI, "Microstructure and properties of alumina-SiC nanocomposites prepared from ultrafine powders,†J. Mater. Sci., vol. 37, no. 17, pp. 3747–3758, 2002.
W. Suprapto, TEKNOLOGI METALURGI SERBUK. Solo: PENAMAS, 2015.
K. R. AHMAD, S. B. JAMALUDIN, L. BAKIR, and Z. A. AHMAD, "The Influence of Alumina Particle Size on Sintered Density and Hardness of Discontinuous Reinforced Aluminum Metal Matrix Composite,†Influ. Alumina Part. Size Sintered Density Hardness Discontinuous Reinf. Alum. Met. Matrix Compos., vol. 42, no. 1, pp. 49–57, 2012.
D. V QUACH, J. R. GROZA, and A. ZAVALIANGOS, Fundamentals and applications of field/current assisted sintering. Woodhead Publishing Limited.
L. LU, C. Y. H. LIM, and W. M. YEONG, "Effect of reinforcements on strength of Mg9%Al composites,†Compos. Struct., vol. 66, no. 1–4, pp. 41–45, 2004.
A. FLEURY, M. GREGORY, and D. BENNETT, "The future of manufacturing,†J. Manuf. Technol. Manag., vol. 18, no. 8, pp. 323–325, 2007.
G. F. VANDER VOORT et al., "ASM handbook,†Metallogr. Microstruct., vol. 9, pp. 40002–44073, 2004.
S. SREENATHA REDDY and R. DHANASEKARAN, "Effect of fly ash and basalt on wrought and cast aluminum alloy,†Mater. Today Proc., vol. 5, no. 13, pp. 27112–27117, 2018.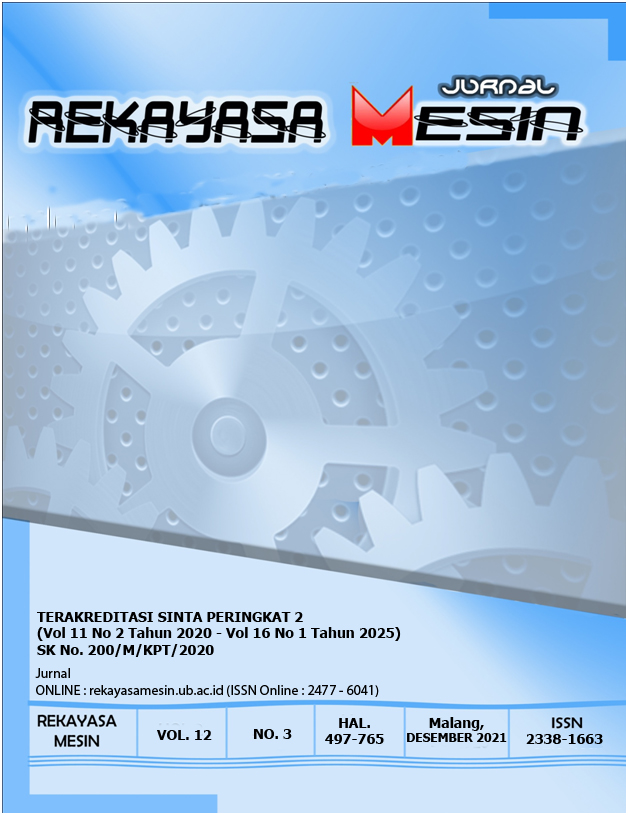 Downloads
License
This work is licensed under a 
Creative Commons Attribution-NonCommercial 4.0 International License
.