Pemanfaatan Karbon Aktif dari Limbah Kulit Pisang untuk Catalytic Converter pada Mesin Diesel
Keywords:
Catalytic Converter, Active Carbon, Banana Peel, Emission
Abstract
The phenomenon of environmental pollution in the machinery system is problem that often occurs. One of them is the emission from burning fossil fuels of diesel engines. Therefore, it is necessary to do proper handling to reduce the emission content of diesel engines, one of which is by using catalytic converter engineering technology. In this study, the catalytic converter was made using an activated carbon filter from banana peel waste with sodium hydroxide (NaOH) activator. The activated carbon formed is then mixed with nickel oxide powder to be used as catalyst and white cement as binder. Diesel engine emission testing is carried out with time variations from 3 to 12 minutes. The results show that there is decrease in the content of carbon monoxide (CO) obtained by 57% when testing emissions at minute 12. While for the content of NOx and NO there is decrease of 43%. This indicates that the mixture of activated carbon from banana peel waste and nickel oxide powder is very effective in reducing the content of diesel engine exhaust emissions.
References
ARUNKUMAR, S., KANKEYAN, M., MUNEESWARAN, V., ARAVIND, M. R., "Exhaust emission reduction in si engine using catalytic converter with silicon dioxide & alumina with silica as catalystsâ€, International Journal of Research in Mechanical, Mechatronic and Automobile Engineering, v. 2, n. 1, pp. 72–78, 2016.
DEY, S., CHANDRA DHAL, G., "Controlling carbon monoxide emissions from automobile vehicle exhaust using copper oxide catalysts in a catalytic converterâ€, Mater. Today Chem., v. 17, 2020.
INDRAWATI, A., TANTI, D.A., BUDIWATI, T., SUMARYATI, "Perhitungan konsentrasi nitrogen oksida (no, nox) ambien dengan menggunakan konsentrasi no2 dan o3 dari passive sampler (studi kasus: cipedes, bandung) (calculation of ambient nitrogen oxides (no, nox) concentrations using no2 and o3 concentrations from passive sampler (case study: cipedes, bandung)â€, Jurnal Sains Dirgantara, v. 16, n. 2, pp. 91–104, 2019.
GHOFUR, A., SOEMARNO, HADI, A., PUTRA, M.D., "Potential fly ash waste as catalytic converter for reduction of HC and CO emissionsâ€, Sustainable Environment Research, v. 28, n. 6, pp. 357–362, 2018.
KUMAR, J.P., SIVAKUMAR, S., BALAJI, R., SATHISH, S., NADARAJAN, M., "Effective utilization of banana plant waste materials for catalytic converter filter in kirloskar diesel engineâ€, Mater. Today Proc., v. 24, n. 4, pp. 2174–2184, 2019.
AZAMAN, S.A.H., AFANDI, A., HAMEED, B.H., MOHD DIN, A.T., "Removal of malachite green from aqueous phase using coconut shell activated carbon: adsorption, desorption, and reusability studiesâ€, J. Appl. Sci. Eng., v. 21, n. 3, pp. 317–330, 2018.
SUNDAY, N.J., OKECHUKWU, N.S., et al., "Quantitative characterization of activated carbon from cow, donkey, chicken and horse bones from ezzangbo in ebonyi state, nigeria†Am. J. Appl. Chem., v. 6, no. 5, pp. 169-174, 2018.
NAVEENKUMAR, R., KUMAR, S.R., PUSHYANTHKUMAR, G., KUMARAN, S.S., "NOx, CO & HC control by adopting activated charcoal enriched filter in catalytic converter of diesel engineâ€, Mater. Today Proc., v. 22, n. 4, pp. 2283–2290, 2020.
AMIN, M., SUBRI, M., "Uji performa filter gas emisi kendaraan bermotor berbasis keramik porous dengan aditif tembaga, TiO2 dan karbon aktif dalam penurunan kadar gas carbon monoksida,†Mekanika, v. 15, n. 2, pp. 24–30, 2016.
DARMAYANTI, D., RAHMAN, N., SUPRIADI, S., "Adsorpsi timbal (Pb) dan zink (Zn) dari larutannya menggunakan arang hayati (biocharcoal) kulit pisang kepok berdasarkan variasi ph (adsorption of plumbum (Pb) and zinc (Zn) from its the Solution by using biological charcoal (biocharcoal) of kepok banana)â€, Jurnal Akademi Kimia, v. 1, n. 4, pp. 159-165, 2012.
LANTANG, A.C., ABIDJULU, J., ARITONANG, H. F., "Pemanfaatan karbon aktif dari limbah kulit pisang goroho (musa acuminafe) sebagai adsorben zat pewarna tekstil methylene blueâ€, Jurnal MIPA, v. 6, n. 2, pp. 55-58, 2017.
REDHA, F., JUNAIDY, R., HASMITA, I., "Penyerapan Emisi CO Dan NOx Pada Gas Buang Kendaraan Menggunakan Karbon Aktif Dari Kulit Cangkang Biji Kopiâ€, Biopropal Industri, v. 9, n. 1, pp. 37–47, 2018.
PURNAMI., WARDANA, I., "Perbandingan Interaksi Karbon Aktif denggan Polaritas Minyak Nabati terhadap Karakteristik Pembakaran Premixed, Rekayasa Mesin, v. 12, n. 1, pp. 79–86, 2021.
WANGSA, H., NEGARA, D.N.K.P., NINDHIA, T.T., "Penyerapan CO2 dengan karbon aktif bambu swat dengan variasi ukuran butiranâ€, Teknik Desain Mekanika, v. 8, n. 1, pp. 440–444, 2019.
HARTANTO, S., RATNAWATI, "Pembuatan karbon aktif dari tempurung kelapa sawit dengan metode aktivasi kimiaâ€, Jurnal Sains Materi Indonesia, v. 12, n. 1, pp. 12–16, 2010.
SONG, X., MA, X., LI, Y., DING, L., JIANG, R., "Tea waste derived microporous active carbon with enhanced double-layer supercapacitor behaviors,†Applied. Surface Science, v. 487, pp. 189–197, 2019.
KURNIATI, E., "Pemanfaatan cangkang kelapa sawit sebagai arang aktifâ€, Jurnal Penelitian. Ilmu Teknik., v. 8, n. 2, pp. 96–103, 2008.
KAÅ PAR, J., FORNASIERO, P., HICKEY, N., "Automotive: catalytic converters current status: current status and some perspectivesâ€, Catalysis Today, v. 77, n. 4, pp. 419–449, 2003.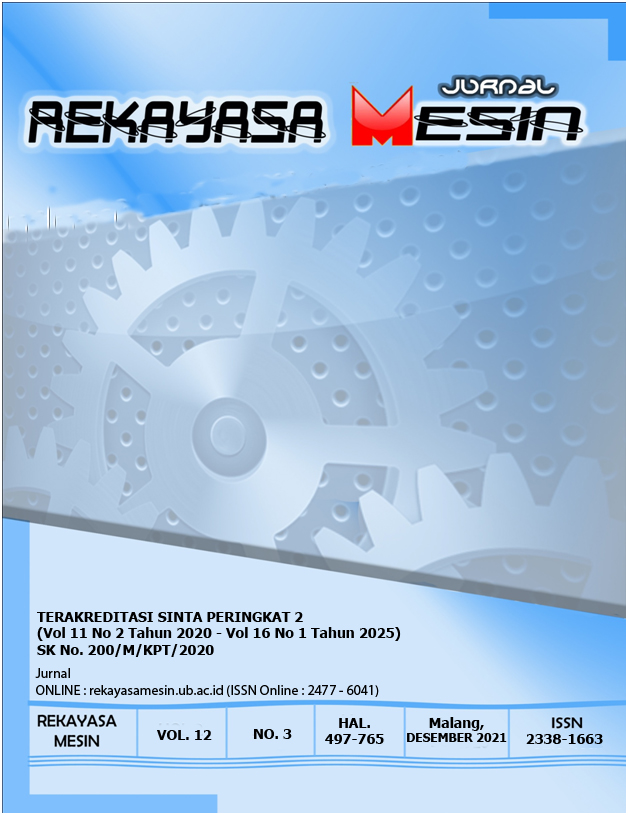 Downloads
License
This work is licensed under a 
Creative Commons Attribution-NonCommercial 4.0 International License
.