Perbandingan Kinerja Motor Bakar 6-Langkah dengan Power-Ekspansi sampai Titik Mati Bawah Menggunakan Bahan Bakar Pertalite dan Etanol
Keywords:
Ethanol, Thermodynamics, Performance, HC, CO, CO2
Abstract
This paper describes compare the performance and emissions of a 6-stroke engine with power-expansion up to BDC (bottom dead center) using pertalite fuel (non-renewable) and 99.7% ethanol (renewable alternative) with performance parameters including (effective power , fuel consumption, Combustion Efficiency , thermal efficiency , fuel efficiency  and emission parameters including (HC, CO and CO2). The method used is a real experimental method, with the independent variables being throttle openings of 35%, 40% , 45%, and 50% with loading on the prony disk brake of 10kg, 20kg, 30kg, 40kg, 50kg. The results of the research on the performance parameters of the magnitude of the effective power of ethanol is 17.5% less than pertalite, The rate of consumption of ethanol fuel 1,61 seconds/10ml lower than pertalite by 2,9 seconds/10ml, For the magnitude of the combustion efficiency (Combustion Efficiency) pertalite is 0.3% greater than ethanol, For the magnitude of the thermal efficiency p there is a 6-stroke engine with power-expansion up to BDC with ethanol fuel tends to be almost the same with 0.29% greater pertalite compared to ethanol, for the magnitude of pertalite fuel efficiency is 4% higher than ethanol. Then the emission parameters for the CO2 value of 80% pertalite tend to have a higher value than ethanol, the HC value is 21.7% higher in ethanol, for the higher CO2 content is dominated by 51.8% ethanol than pertalite.
References
BADAN PUSAT STATISTIK,. "Perkembangan Jumlah Kendaraan Bermotor Menurut Jenisâ€. Jakarta: BPS. https://www.bps.go.id/linkTableDinamis/view/id/1133. Diakses: 21 Februari 2019.
SOEDOMO, M., SURIHANTO, I., MAXDONI & H. TOKKONG., "Pengukuran Emisi Pencemaran Udara Bersumber dari Lalu Lintas Perkotaan, Inventarisasi dan Identifikasiâ€. Laporan Penelitian. Bandung: ITB., 1983.
BAJULAZ, ROGER., "Internal Combustion Engineâ€, United State Patent Office, Patent No. 4,809,511., Maret 1989.
EMRE ARABACI, YAKUP ICINGUR, HAMIT SOLMAZ, AHMET UYUMAZ, EMRE YILMAZ (2015) Experimental investigation of effect of direct water injection parameters on engine performance in six-stroke engine, Energy Conversion and Management, V. 98.
ZIABAZMI, A., "Six Stroke Engine With Intake – Exhaust Valvesâ€, United State Patent Office, Patent No. US 6,789,513 B2, september 2014.
SISWANTO, E., WIDODO, A.S., HAMIDY, N., WIDHIYANURIYAWAN, D., NOOR, G.R.F., "Effect Of Venturi Diameter Of Carburetor On Performance Of Six-Stroke 125 Cc Combustion Engineâ€, Journal of Environmental Engineering & Sustainable Technology, v. 03, n. 02, pp. 16-22. 2016.
SISWANTO, E. "Metode Operasi Motor Pembakaran Dalam Siklus Enam Langkah". IDP000040589. 2016.
SISWANTO, E., WIDHIYANURIYAWAN, D., WIDODO, A.S., HAMIDI, N., DARMADI, D.B., and SUDJITO., "On The Performance Of Six-Stroke Single-Power Combustion Engineâ€, JP Journal of Heat and Mass Transfer, v. 14, n. 2, pp. 201-218, 2017.
NINGRAT, A.A.W.K.., KUSUMA, I.G.B.W., , ADNYANA, I.W.B., "Pengaruh Penggunaan Bahan Bakar Pertalite Terhadap Akselerasi Dan Emisi Gas Buang Pada Sepeda Motor Bertransmisi Otomatisâ€, Jurnal Mettek, v. 2, n. 1, pp. 59-67, 2016.
THANGAVELU, S.K., AHMED, A.S., ANI, F.N., "Review on bioethanol as alternative Fuel For Spark ignition enginesâ€, Science Direct Journal Renewable and Sustainable Energy Reviews, v. 56, n. 1, pp. 820-835, Juni 2016
ZABED, H., SAHU, J.N., SUELY, A., BOYCE, A.N., FARUQ, G., "Bioethanol production From renewable sources: Current perspectives and technological progress†Science Direct Journal Renewable and Sustainable Energy Reviews, v. 71, n. 1, pp. 475-501, Mei 2017.
ARISMUNANDAR., W., "Penggerak Mula : Motor Bakar Torak", ITB, 2005.
HEYWOOD, JOHN., "Ideal models of engine cycle", in: Duffy, A., Morriss, J.M., (eds), Internal Combustion Engine Fundamentals, 1 st., chapter 5, New York, McGraw-Hill Book, 1988.
BOUNDY, B., W.DIEGELl, S., WRIGHT, L. &C.DAVIS, S., Biomass Energy Data Book. 4 ed. Tennessee: U.SDepartment of Energy, 2011.
RAZI, M., SISWANTO, E., WIJAYANTI, W., "Pengaruh derajat pengapian terhadap kinerja motor bakar 6 langkah berbahan bakar etanolâ€, Jurnal Rekayasa Mesin, v. 10, n. 3, pp. 299-308. 2019.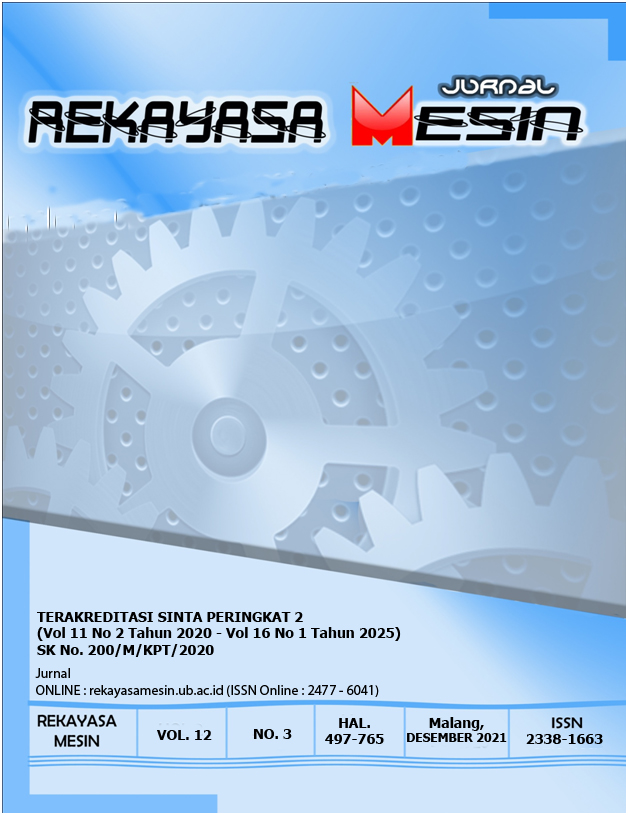 Downloads
License
This work is licensed under a 
Creative Commons Attribution-NonCommercial 4.0 International License
.