Aerodynamic Analysis of Fiberglass E-Falco Car Body to Get Drag Coefficient with Numerical Analysis
Keywords:
Aerodynamics Analysis, Car Body, E-Falco, Spoiler, Drag Coefficient
Abstract
One of the developments in automotive technology is identified by the increasing variety of vehicle products in the market. This development also leads to the refinement of the design of a more aerodynamic car shape to reduce air friction which can reduce material consumption. Because in theory, the aerodynamic shape of the vehicle's body can reduce fuel consumption and minimize the forces that hinder the vehicle's speed. The purpose of this study is to design a more aerodynamic car body, determine the air flow pattern around the car, and simulating the design of the car body to determine the amount of drag coefficient, using Spoiler and without spoiler E-Falco Car Body with variations in speed of 10 km/h, 20 km/h and 40 km/h. The results of this study indicate that the greater the driving speed, the greater the drag generated. The average drag coefficient for the 3 speed variations is 1,995 for design I and 1,905 for design II. The smallest drag coefficient with a value of 1.887 occurs in Design II with a speed used of 40 km/hour and the largest value of the coefficient of drag with a value of 2.043 occurs in Design I with a used speed of 10 km/hour. Design model II is more aerodynamic than design I, the smallest drag coefficient is 1.887. So that the body for the KMLI 2020 competition is recommended to use the  design model  II which  use Spoiler.
References
SUSWANTO, B., & FINAHARI, N. Studi Pengaruh Model Mobil Dan Variasi Kecepatan Angin Terhadap Gaya Drag. 21(1), 14–19. Maret 2013
Aerodinamika Pada Bodi Mobil Hemat Energi Lintang Samudra Menggunakan Metode Computational Fluid Dynamicsâ€, JURNAL ILMIAH MOMENTUM, , v. 16, n. 1, pp. 80-86, April 2020. http://dx.doi.org/10.36499/mim.v16i1.3366
J. S. J. S, and M. T. S. UTOMO, "Analisis Aerodinamika Body Mobil Hemat Energi Antawirya Residual-Sat Dengan Menggunakan Metode Computational Fluid Dynamics," JURNAL TEKNIK MESIN, vol. 5, no. 1, pp. 50-59, Jan. 2017. https://ejournal3.undip.ac.id/index.php/jtm/article/view/17042.
HIDAYATI, N. A., et. al.. "Analisis aerodinamis pada variasi bentuk ekor design bodi mobil hemat energiâ€. Jurnal Energi Dan Manufaktur, 10(2), 66–70. 2018
YOGATAMA, M., & TRISNO, R. "Studi Koefisien Drag Aerodinamika pada Model Ahmed Body Terbalik Berbasis Metode Numerik", Jurnal Teknik Mesin, v. 7, n. 1, pp. 10-14, 2018. https://doi.org/10.22441/jtm.v7i1.2235
TRISNO, R., & WIBOWO, I. G. (2016). "Studi Pengaruh Implementasi Jet Sintetik Terhadap Gaya Drag Aerodinamis Pada Model Molinasâ€. Seminar Nasional Teknologi Dan Rekayasa (SENTRA), v. 1, n. 1, pp. 117–125. 2016
CAHYONO, G. R., ISWORO, H., GHOFUR, A., and RIADI, J..â€Analisis Nilai Koefisien Drag Pada Model Mobil Listrik Wasakaâ€. Elemen : Jurnal Teknik Mesin, v. 6, n. 2, pp. 59-68 . 2019. https://doi.org/10.34128/je.v6i2.100
JANOÅ KO, I., POLONEC, T., KUCHAR, P., MÃCHAL, P., ZACH, M., "Computer simulation of car aerodynamic propertiesâ€, Acta Universitatis Agriculturae et Silviculturae Mendelianae Brunensis. , v.65, no. 5, pp. 1505-1514, November 2017. https://doi.org/10.11118/actaun201765051505
BADRAWADA, I. G. G., PURWANTO, A., and FIRLANDA, E.R., "Analisa Aerodinamika Bodi Kendaraan Mataram Proto Diesel dengan ANSYS 15.0. Jurnal Engine: Energi, Manufaktur, Dan Material, 3(1), pp. 8-14. Mei 2019. https://doi.org/10.30588/jeemm.v3i1.481
GOETTEN, F., FELIX, D., MARINO, M., BIL, C., HAVERMANN, M., and BRAUN, C., "A review of guidelines and best practices for subsonic aerodynamic simulations using RANS CFDâ€, 1th Asia-Pacific International Symposium of Aerospace Technology, https://doi.org/10.21776/ub.jrm.2015.006.02.2
ANGGARA, F.,"Studi Numerik: Komparasi Pengaruh Rasio Panjang Dan Diameter Guide Vane Terhadap Aliran Udara Outlet Ductingâ€. Scientific Journal of Mechanical Engineering Kinematika, v. 5, n. 2, 150-159, Desember 2020. https://doi.org/10.20527/sjmekinematika.v5i2.178
CHEN, J., and MIAO H.H.. "Automobile Modeling Research Based on Numerical Simulation.†Applied Mechanics and Materials, vol. 733, pp. 587–590 Trans Tech Publications, Ltd., Feb. 2015. doi:10.4028/www.scientific.net/amm.733.587.
VIGNESH, S., and KUMAR, M.,†Computational flow prediction and design optimization of vortex generators for a conventional passenger carâ€,International Journal of Vehicle Structures and Systems , v. 12, n. 3, Oct 19, 2020. https://doi.org/10.4273/ijvss.12.3.12
DWINANTO, A.Y., MUHAMMAD, F.B., "Analisis karakteristik bodi dan chassis pada prototype kendaraan listrikâ€, Rekayasa Mesin, v.6, n. 2, pp. 119-126. Agustus 2015.
SYAMSURI., LILLAHULHAQ, Z., YUSRON, M., "Simulation of Fluid Flow Through Sedan Car YRS 4 Doors with Speed Variation using CFDâ€, Jurnal Rekayasa Mesin, , v. 11, n. 3, pp. 395-400, Septem-ber 2020. https://doi.org/10.21776/ub.jrm.2020.011.03.11
YIPING, W., ZIYI, Z., QIANWEN, Z., ZHEN, H., and CHUQI, S.,â€Dynamic coupling analysis of the aerodynamic performance of a sedan passing by the bridge pylon in a crosswindâ€, Applied Mathematical Modelling, v. 89, part 2, pp. 1279-1293, 2021. https://doi.org/10.1016/j.apm.2020.07.003
MIERZEJEWSKA, P., CIESLINSKI, A., and JODKO, D.,â€Influence of the diffuser on the drag coefficient of a solar carâ€, Mechanic and Mechanical Engineering, v. 22 , n. 2, pp.509-519, January 2018.
PRIHADNYANA, Y., WIDAYANA, G. DANTES, K.R., "Analisis Aerodinamika Pada Permukaan Bodi Kendaraan Mobil Listrik Gaski (Ganesha Sakti) Dengan Perangkat Lunak Ansys 14.5â€, Jurnal Pendidikan Teknik Mesin Undiksha, , v. 8, n. 2, 2017.
LUTHFIE, ALIEF A., et al. "Numerical Simulation On Rear Spoiler Angle Of Mini Mpv Car For Conducting Stability And Safety." SINERGI, vol. 24, no. 1, pp. 23-28, 15 Feb. 2020, doi:10.22441/sinergi.2020.1.004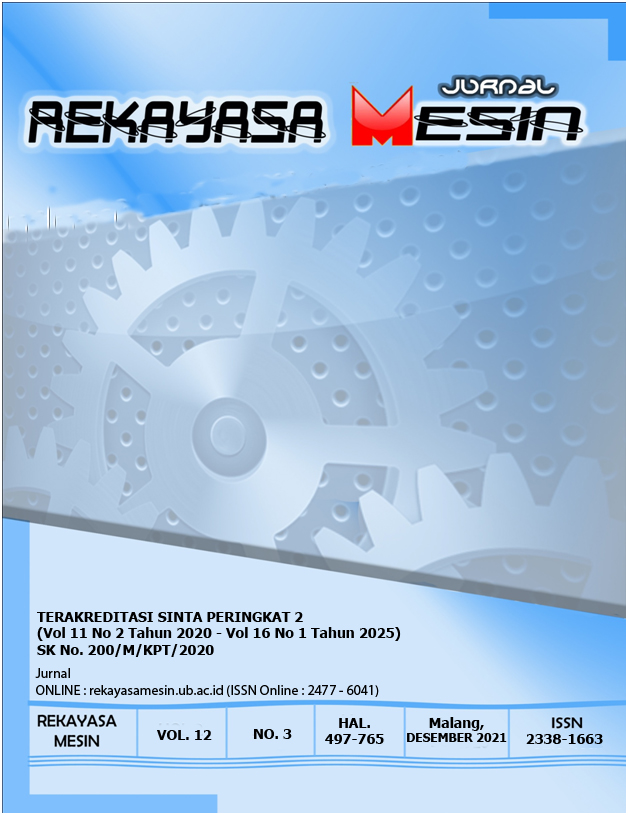 Downloads
License
This work is licensed under a 
Creative Commons Attribution-NonCommercial 4.0 International License
.