Simulasi Gaya Pemotongan pada Proses Bubut dengan Software Third Wave Advantedge
Keywords:
Cutting Force, Simulation, HSS, Al 6061
Abstract
The cutting force that reacts to cutting tool and workpieces will result deflection. Deflection is the cause of product deviation and vibration sources that can shorten the life of the cutting tool. Simulation of machining process is carried out to get an estimate of cutting force in some machining process conditions., then compare it to the experiments. The research aims to find out the influence of spindle rotary speed, feed rate and depth of cut on cutting forces in turning process with cutting tool HSS and workpiece Al 6061. This research uses three-dimensional simulation method using Third Wave AdvantEdge software. Following by comparison between the simulation with the experiments results. The simulation was in accordance to the experiments in term of the magnitude of the forces, from the biggest they are tangential, axial, and radial force respectively. Cutting force will decrease with increased spindle turning speed. Cutting force will increase with the rising feed rate and depth of cut. However, the simalution still highly deviate from the experiments at the rate of 71%, 44.3%, and 21.3% for axial, radial and tangential forces respectively. The possible cause of these high errors relates to forces measuring method in experiments.
References
KORKUT, I., BOY, M., "Experimental examination of main cutting force and surface roughness depending on cutting parametersâ€, StrojniÅ¡ki vestnik – Journal of Mechanical Engineering, v. 54, n. 7, pp. 531-538, Aug. 2017.
PARIHAR, R. S., SAHU, R. K., & SRINIVASU, G., "Finite element analysis of cutting forces generated in turning process using deform 3D softwareâ€, Materials Today: Proceedings, v. 4, n. 8, pp. 8432-8438, 2017.
SATYANARAYANA, K., GOPAL, A.V., RAO, G.V., "Effect of rake angle and feed rate on cutting forces in an orthogonal turning processâ€, In: International Conference on Trends in Mechanical and Industrial Engineering, pp.150-154, Jan. 2011.
RUSNALDY, R., "Proses simulasi untuk menentukan besarnya gaya potong pada proses bubutâ€, ROTASI, v.. 11, n. 1, pp. 29-32, 2009.
DALI, M.N.A.M., GHANI, J.A. AND HARON, C.H.C., "Comparison between dynamic and non-dynamic cutting tool option in FEM simulation for producing dimple structureâ€, Procedia CIRP, v. 58, pp.613-616, 2017.
HAN, R.D., WU, J. "Finite element simulation of drilling based on third wave systems AdvantEdgeâ€, Key Engineering Materials, v. 431-432, pp. 229-232, 2010.
A'LIYAH, I. F. H., Analisis gaya potong pada proses bubut dengan menggunakan sensor strain gauge, Skripsi, Fakultas Teknik Universitas Jember, Jember, 2020.
MUKHLISIN, M., RAMADHAN, M.E., MULYADI, S., "Analisa gaya radial pada proses turning menggunakan sensor strain gaugeâ€, Journal of Energy, Mechanical, Material and Manufacturing Engineering, v. 4, n. 2, Des. 2020.
SIREGAR, S. A., TRIONO, A., DARSIN, M., MULYADI, S. "Measuring feed force in machining using a strain gageâ€, Journal of Energy, Mechanical, Material and Manufacturing Engineering, v. 16, n. 1, 2021.
YANG, D., YU, L., FUJIAN, M., ZHIHUA, S., & ZHANG, S. "Simulation study on cutting force and cutting temperature in turning of titanium alloyâ€, In: IOP Conference Series: Materials Science and Engineering, v. 692, 012014, Wuhan, Oct. 2019.
RIBEIRO-CARVALHO, S., HOROVISTIZ, A., DAVIM, J.P. "Material model assessment in Ti6Al4V machining simulations with FEMâ€, In: Proceedings of the Institution of Mechanical Engineers, Part C: Journal of Mechanical Engineering Science, v. 203-210, Feb. 2021.
DARSIN, M., PASANG, T., & CHEN, Z., "Forces perspective of drillability of titanium alloy 6Al-2Sn-4Zr-6Moâ€, JEMMME (Journal of Energy, Mechanical, Material, and Manufacturing Engineering), v. 3, n. 1, pp. 23-30, 2018.
OKOKPUJIE, I.P., IKUMAPAYI, O.M., OKONKWO, U.C., SALAWU, E.Y., AFOLALU, S.A., DIRISU, J.O., NWOKE, O.N. AND AJAYI, O.O., "Experimental and mathematical modeling for prediction of tool wear on the machining of aluminium 6061 alloy by high speed steel toolsâ€, Open Engineering, v. 7, n. 1, pp. 461-469, 2017.
ROSEHAN, LUBIS, S., FIRMANSYAH, M., "Analisis parameter permesinan terhadap gaya potong pada proses pembubutan logam S45Câ€,In: Prosiding Seminar Nasional Mesin dan Industri (SNMI), pp 303-304, Bali, Nov. 2014.
SIVARAMAN, V., SANKARAN, S., VIJAYARAGHAVAN, L., "The effect of cutting parameters on cutting force during turning multiphase microalloyed steelâ€, Procedia CIRP. v. 4, pp. 157-160, 2012.
ROCHIM, T., Klasifikasi Proses, Gaya, Daya Pemesinan, Bandung, Institut Teknologi Bandung, 2007.
GÃœNAY, M., KORKMAZ, M. E., YAÅžAR, N., "Finite element modeling of tool stresses on ceramic tools in hard turningâ€, Mechanics, v. 23, n. 3, pp. 432-440, 2017.
MUDJIJANTO, M., SUTARTO, E., SARIP, S., "Analisis karakteristik geram dan kekasaran permukaan pada proses bubut kecepatan rendah terhadap baja karbonâ€, SIMETRIS, v. 13, n. 1, pp. 18-23, 2019.
WIBOLO, A., WAHYUDI, S., SUGIARTO, S. "Optimasi parameter pemotongan mesin bubut cnc terhadap kekasaran permukaan dengan geometri pahat yang dilengkapi chip breakerâ€. Rekayasa Mesin, v. 2, n. 1, pp. 55-63, 2011.
SOESANTI, A., SOEPANGKAT, B. O. P., PRAMUJATI, B., "Pengaruh cairan pendingin bertekanan tinggi terhadap keausan tepi pahat, gaya potong, dan kekasaran permukaan pada pembubutan baja AISI 4340â€, In: Seminar Nasional Teknik Mesin X Universitas Brawijaya, Nov. 2011.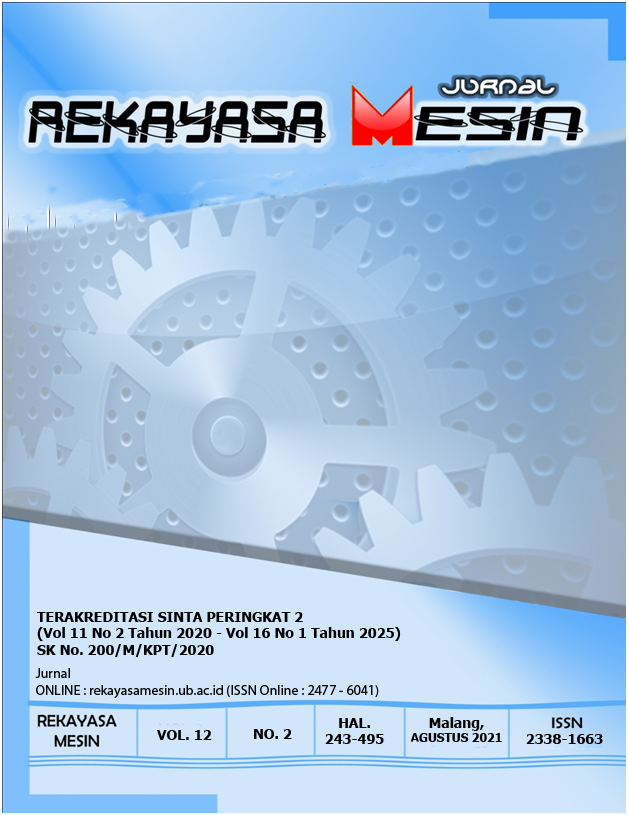 Downloads
License
This work is licensed under a 
Creative Commons Attribution-NonCommercial 4.0 International License
.