Pengaruh Waktu Pencampuran terhadap Kekerasan Vickers Material Crucible Berbahan Limbah Evaporation Boats, Kaolin dan Semen Tahan Api
Keywords:
Mixing Duration, Crucibles, Evaporation Boats, Hardness, BN, TiB2
Abstract
Evaporation boat waste contains Boron Nitride (BN) and Titanium Diboride (TiB2) so that it has electrically conductive properties with high resistance to chemicals and heat. In addition, the combination of these materials has high thermal conductivity properties with a melting point of up to 2700oC and has an oxidation resistance of up to 1000oC so it is very suitable if applied to crucibles, or refractory. The purpose of this study was to determine the effect of mixing duration on the hardness of the crucible material made from a mixture of evaporation boats waste, kaolin and fire mortar SK-34. The mixing process of evaporation boats waste, kaolin and refractory cement is carried out using a mixer machine with a duration of 30, 60 and 90 minutes. The compaction process was carried out on the mixture with a force of 40 kg/cm2 to produce a cylindrical test specimen. After seven days, the specimens were sintered at 1000oC for 2 hours. The hardness test process was carried out with the FM-800 microhardness tester machine to determine the effect of mixing duration on the final product hardness. The highest hardness of 37,2 HV was found in the final product with a mixing duration of 90 minutes. The hardness of final product is increasing with an increase in mixing duration.
References
INDIARTI NURROHMAH. Pengaruh Thermal Shock dan Komposisi Grafit, Kaolin (Clay) terhadap Ketahanan Impact dan Struktur Mikro Kowi Berbahan Dasar Limbah Evaporation Boats. Skripsi. Universitas Negeri Semarang, 2019.
MIFTAHUL J. Pengaruh Temperatur Sintering Terhadap Densitas, Porositas, Dan Kekerasan Berbahan Evaporation Boats, Kaolin Dan Semen Castable Sebagai Material Crucible. Skripsi. Universitas Negeri Semarang, 2019
FAJRI, N., RUSIYANTO, R., WIDODO, R., SUMBODO, W., & FITRIYANA, D. "Pengaruh Thermal Shock dan Komposisi Evaporation Boats, Semen Tahan Api, dan Pasir Silika terhadap Kekuatan Impact dan Foto Makro Lining Refractoryâ€, Jurnal Rekayasa Mesin, Vol. 12, No. 1, pp. 11-17. 2021
PERCY, JOHN. Natural Refractory Materials Employed in the Construction of Crucibles, Retorts, Forunaces &c. Metallurgy. London: W. Clowes and Sons, 1861. 208–09. Print.
RAHMAH, JANNATIKA. Pengaruh Variasi Lama Waktu Pengadukan pada Komposit Gelatin-Hidroksiapatit Bergentamisin sebagai Bahan Implan Tulang. Skripsi. Universitas Airlangga, 2013.
DAUD. "Kaolin sebagai bahan pengisi pada pembuatan kompon karet: Pengaruh ukuran dan jumlah terhadap sifat mekanik fisikâ€. Jurnal Dinamika Industri, vol.26. No.1. Palembang, 2015.
RAHMADIKA, B., & APRIYANTI, Y. "Pengaruh Pengurangan Setting Time (Wait on Cement) pada Semen Tahan Api dengan Penambahan Oil Well Cementâ€. Jurnal Mineral, Maret 2017, Vol. II (1), 41 – 47, 2017.
FLÃDR, J., DAN BILÃ, P. "Influence of mixing procedure on mechanical properties of high-performance concreteâ€. IOP Conference Series: Materials Science and Engineering, 246(1), 2017.
SCHIESSL P., MAZANEC O., LOWKE K. "SCC and UHPC effect of mixing technology on fresh concrete propertiesâ€. Advances in construction materials. VI, 513–522, 2007.
HIREMATH, P. N., DAN YARAGAL, S. C. "Influence of mixing method, speed and duration on the fresh and hardened properties of Reactive Powder Concrete". Construction and Building Materials, 141, 271–288, 2017.
SUNARDI. "Karakterisasi Kaolin Lokal Kalimantan Selatan Hasil Kalsinasiâ€. Jurnal Fisika FLUX, Vol. 8 No.1, 2011.
AMIN, M., DAN IRAWAN, B. "Pengaruh tekanan kompaksi terhadap karakterisasi keramik kaolin yang dibuat dengan proses pressureless sinteringâ€, TRAKSI, Vol. 7, No. 2, pp. 40-54, 2008.
NAGA, S. M., EL SHAER, M., AWAAD, M., & SALEH, M. A. "Effect of Soaking Time on the Properties of SrAl12O19/ZTA Compositesâ€. Journal of Materials Engineering and Performance. doi:10.1007/s11665-020-04836-4. 2020
PATTANAIK, A., MOHANTY, M., SATHPATHY, M.P., & MISHRA, S. "Effect of Mixing Time on Mechanical Properties of Epoxy-Fly Ash Compositeâ€. Journal of Materials & Metallurgical Engineering, Vol. 5, No. 2, pp. 11 – 17. 2015.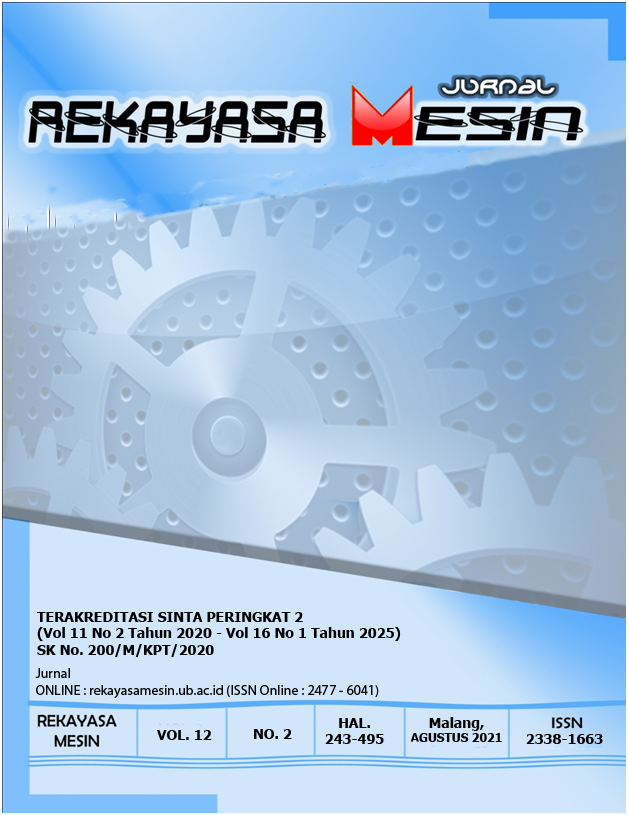 Downloads
License
This work is licensed under a 
Creative Commons Attribution-NonCommercial 4.0 International License
.