Studi Karakteristik Stabilitas dan Konstruksi Kapal Berbahan High Density Polyethylene (HDPE)
Keywords:
HDPE Boat, Fishing, Tourism, Stability, Construction
Abstract
The development of fishing and marine tourism requires the support of naval architecture, especially in small boat. The use of wood as the main material for shipbuilding has recently become a problem considering the decreasing availability of wood, while the use of fiber is classified as less environmentally friendly because it uses chemical resin and difficult to repair when it breaks and cannot be recycled. The aim of this research is to design the High-Density Polyethylene (HDPE) boat. The design was carried out by using naval architect design software. The stability of boat was calculated by using three loading conditions such as when leaving the port, in the sea and when returning to the port. The International Maritime Organization (IMO) safety criteria was using to evaluation of boat stability where the three loading conditions have met the IMO standard. The construction of HDPE boat was carried out by using DNV rules.
References
https://theaseanpost.com/article/indonesias-plastic-waste-problem, diakses pada 16/12/2019
RITCHIE, H., & ROSER, M. (2018). Plastic pollution. Our World in Data.
ANUGROHO, F., LUTFI, M., & NUGROHO, W. A. (2017). APPROPRIATE TECHNOLOGY FOR COMMUNITY; RECYCLING OF PLASTIC TRASH IN PONOROGO. Journal of Innovation and Applied Technology, 3(2), 476-485.
PRIHATMOYO, P. E., DERMAWAN, D., & BISONO, F. (2018, December). Rancang Bangun Mesin Destilator Pengubah Limbah Plastik Menjadi Minyak. In Proceedings Conference on Design Manufacture Engineering and its Application (Vol. 2, No. 1, pp. 105-110).
NURYOSUWITO, N., SOEPARMAN, S., WIJAYANTI, W., & SASONGKO, M. (2018). Pengaruh Campuran Sampah Plastik dengan Katalis Alam terhadap Hasil Produk Pyrolisis. Rekayasa Mesin, 9(2), pp. 85-91. doi:https://doi.org/10.21776/ub.jrm.2018.009.02.3
WATI, R. F., WARDANA, I. N. G., WINARTO, W., SUKARNI, S., & PUSPITASARI, P. (2019). Pengaruh Penambahan Nanokatalis MnFe2O4 Terhadap Proses Pirolisis Sampah Plastik HDPE. Rekayasa Mesin, 9(3), 221-225.
ÖZKAN, K., ERGIN, S., IŞIK, Ş., & IŞIKLI, İ. (2015). A new classification scheme of plastic wastes based upon recycling labels. Waste Management, 35, 29-35.
BURGOYNE, C. (2009, July). Fibre reinforced polymers–strengths, weaknesses, opportunities and threats. In Proceedings of the 9th international symposium on fiber reinforced polymer reinforcement for concrete structures (FRPRCS-9), Sydney, Australia (pp. 13-15).
SISWANDI, B., & ARYAWAN, W. D. (2017). High Density Polyethylene (HDPE) Vessel of Pompong as a Fishing Vessel for Bengkalis Fisherman. IPTEK Journal of Proceedings Series, 3(2), 108-113.
DUBROVSKY, V., LYAKHOVITSKY, A., "Multi-hull shipsâ€, 2001, ISBN 0-9644311-2-2, Backbone Publishing Co., Fair Lawn, USA, 495 p.
LEWIS, E. V. (1988). Principles of naval architecture second revision. Jersey: SNAME, 2.
RAWSON, K. J., & TUPPER, E. C. (2001). Basic ship theory (Vol. 1). Butterworth-Heinemann.
IMO A. 749.1995. Intact Stability For All Types of Ships. London: International Maritime Organiza-tion.
https://products.damen.com/en/clusters/fishing-vessels, diakses pada 20/12/2019
AMIRUDDIN, W. Analisis Teknis Ekonomis Penggunaan Kulit Plastik HDPE Sebagai Pengganti Kulit Kayu Pada Lambung Perahu Katamaran. Kapal: Jurnal Ilmu Pengetahuan dan Teknologi Kelautan, 16(1), 33-40.
BENFORD, H. (1991). Naval architecture for non-naval architects. Society of Naval Architects &.
VERITAS, D. N. (2010). STANDARD FOR CERTIFICATION No. 2.21.
LOYDU, T. (2014). Tentative Rules for Polyethylene Craft.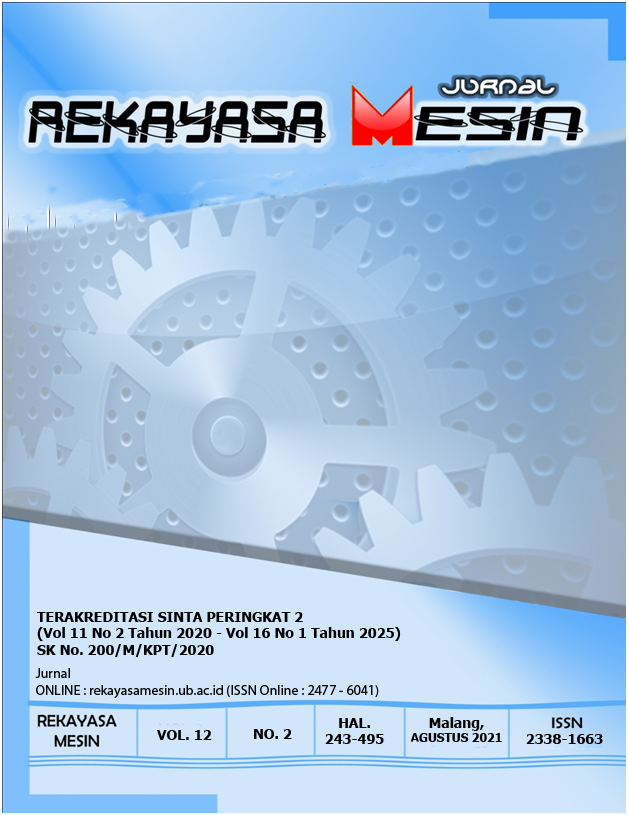 Downloads
License
This work is licensed under a 
Creative Commons Attribution-NonCommercial 4.0 International License
.