Rancang Bangun Mesin Pencacah Limbah Kotoran Sapi
Keywords:
Cattle Dung Waste, Design, Safety Factor, Power
Abstract
Cattle farms produce waste which consisted of cow excrement in the form of solid, liquid, gas or cattle feed residual. Utilization of cow manure waste into organic compost requires proper processing technology which includes the technology of solid manure pulverizing and the technology of mixing raw materials. This research focuses on designing a cattle dung waste pulverizer. The methods used are numerical calculations, simulations using the Fusion 360 software, and fabrication based on Design for Manufacture and Assembly (DFMA). The main parts of the design include pulverizer, engine frame, cover (input and output hoppers), diesel motor, transmission belt and pulley. The safety factor obtained for the frame section was 4,645, for the cover section was 11.3, and for the counter section was 2,009 with assumptions of uniform load distribution of 20000 N. The power required for the design was 6.6 HP. The cattle dung waste pulverizer was built and tested using a diesel motor with a maximum power of 13 HP. The cattle dung waste pulverizer's capacity was 1500 kg/hour.
References
Editorial, Badan Pusat Statistik Jawa Tengah, https://jateng.bps.go.id/. Diakses: Agustus 2019.
APRIYANTO, A. L., "Peranan kelompok peternak sapi potong Satwa Mulya terhadap keberadaan rumah tangga peternak di Desa Brajan, Kecamatan Mojosongo, Kabupaten Boyolali Jawa Tengahâ€, Jurnal Ilmu-Ilmu Perternakan, vol. 26, no. 3, pp. 79-90. 2017.
HUDA, S., "Pemanfaatan Limbah Kotoran Sapi Menjadi Pupuk Organik Sebagai Upaya Mendukung Usaha Perternakan Sapi Potong di Kelompok Tani Ternak Mandiri Jaya Desa Moropelang Kec. Ba-bat Kab. Lamonganâ€, Jurnal Pengabdian Kepada Masyarakat, vol. 1, no. 1, pp 26-35. Februari 2017.
SUTRISNO, E., "Pembuatan Pupuk Kompos Padat Limbah Kotoran Sapi dengan Metoda Fermentasi Menggunakan Bioaktivator Strabio di Desa Ujung-Ujung Kecamatan Pabelan Kabupaten Sema-rangâ€, Jurnal Pasopati, vol. 1, no. 2. 2019.
SAPUTRA, L., Pengaruh Limbah Perternakan Sapi Terhadap Kualitas Air Tanah Untuk Kebutuhan Air Minum (Studi Kasus Di Desa Singosari Kecamatan Mojosongo Kabupaten Boyolali Tahun 2017), PhD Thesis, Universitas Muhammadiyah Surakarta, 2018.
ARIFIN, Z., "Pengolahan Limbah Kotoran Sapi dan Onggok Pati Aren Menjadi Pupuk Organikâ€, In: Prosiding SENADIMAS Ke-4, pp 191-196, Bali, 2019.
DEWI, N. M. E. Y., "Pengaruh Bahan Tambahan pada Kualitas Kompos Kotoran Sapiâ€, Junal BETA (Biosistem dan Teknik Pertanian), vol. 5, no. 1, pp 76-82, Maret 2017.
RAHMAN, A., "Pengaruh Pemasangan Sekat dalam Ruang Digester Kotoran Sapi Terhadap Kapasi-tas Biogasâ€, BIMAFIKA: Jurnal MIPA, Kependidikan dan Terapan, vol. 2, no. 1, pp. 178-186, 2016.
HARDONO, J., "Rancang Bangun Mesin Pemarut Kelapa Skala Rumah Tangga Berukuran 1 Kg Per Waktu Parut 9 Menit dengan Menggunakan Motor Listrik 100 Wattâ€, Motor Bakar: Jurnal Teknik Mesin, vol. 1, no. 1, 2017.
SUGANDI, W., "Rancang Bangun Mesin Pengiris Talas Semirâ€, Jurnal Rekayasa Mesin, vol. 8, no 2, pp 67-74, 2017.
HENDRAWAN, Muh Alfatih, et al. Perancanganchassis Mobil Listrik Prototype" Ababil" dan Simulasi Pembebanan Statik dengan Menggunakan Solidworks Premium 2016. Proceeding of the URECOL, pp. 96-105, 2018
PRIS, Fahd Riyal; SUYITNO, Budhi M.; SUHADI, Amin. Analisis Kekuatan Velg Aluminium Alloy 17 Inc Dari Berbagai Desain Menggunakan Metode Finite Element Analysis (Fea). Teknobiz: Jurnal Ilmiah Program Studi Magister Teknik Mesin, Vol. 9, No. 2, pp. 33-39, 2019
WIBAWA, Lasinta Ari Nendra. Numerical Study of the Effect of Wall Thickness and Internal Pressure on Von Mises Stress and Safety Factor of Thin-Walled Cylinder for Rocket Motor Case. JST (Jurnal Sains dan Teknologi), Vol. 9, No. 1, 2020
VIRGANDA, M. F. A., Perancangan Alat Bantu SneiI Ulir Standart Guna Mengoptimalkan Proses Pengerjaan Menggunakan metode Design for Manufacture and Assembly (Studi Kasus: Workshop PT. Indospring. TBK, Gresik), PhD Thesis, Universitas Muhammadiyah Gresik, 2016.
NAHDIY, A. S., Rancang Bangun Alat Penggerak Pompa Peistaltik dengan Sistem Mekanik Mengu-bah Gerak Translasi Menjadi Gerak Rotasi, S.T Skripsi,Universitas Islam Indonesia, Yogyakarta, 2018.
AMIRUDIN, A., "Analisis Sistem Belt Conveyor Gilingan Di Pt. Pabrik Gula Rajawali II Unit PG Jati-jujuh Majalengkaâ€, In: Proceeding STIMA, vol. 1, no. 1, 2018.
Editorial, Toko Online, https://www.teknikmart.com/. Diakses pada September 2019.
NUGRAHA, G. C. A., "Rancang Bangun Rangka Mobil Listrik IBN Khaludun Sakti (IKSA)â€, AME (Aplikasi Mekanika dan Energi): Jurnal Ilmiah Teknik Mesin, vol. 5, no. 1, pp. 47-52, 2019.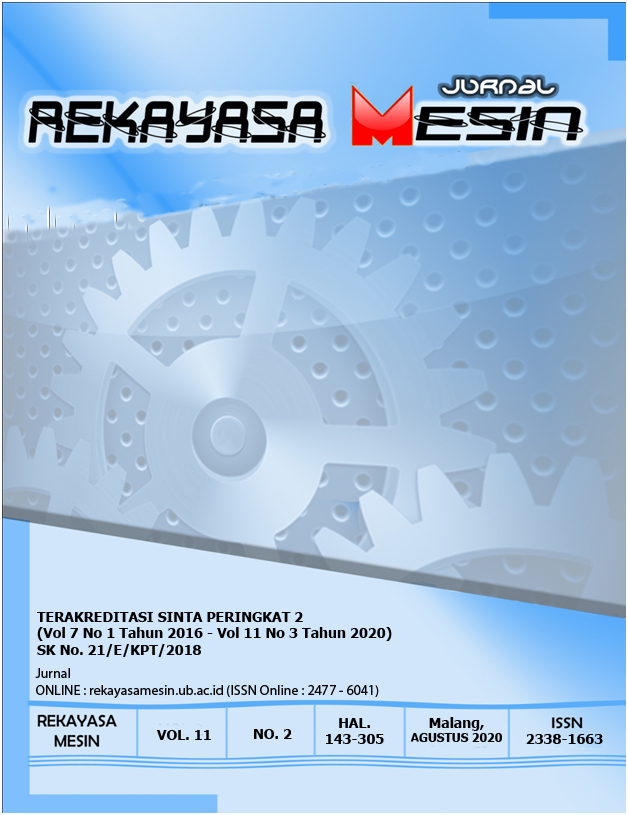 Downloads
License
This work is licensed under a 
Creative Commons Attribution-NonCommercial 4.0 International License
.