Analisis Statis Konstruksi dan Lance Tube Sootblower Tipe Motorised Rotary Menggunakan Software Solidworks 2016
Keywords:
Simulasi, Sootblower, Konstruksi, Lance Tube.
Abstract
Sootblower is a boiler support equipment that works to clean soot. Sootblower requires a strong construction to support the components in order to work optimally. Sootblower is also not free from several failures on its components, the main component that causes failure on the sootblower is the lance tube. This study aims to analyze the static construction and lance tube motorized rotary sootblower type sootblower using Solidworks software. The method used in this research is a simulation based on the finite element method. The material applied to the construction is St 37 and the material on the lance tube is ASTM A213 T92. The static simulation results show that the construction design of the angle iron measuring 35×35×6 mm has a max stress value of 57,50 N/mm2 that occurs in the bolt hole, a value of max displacement of 0,0146 mm on the rod supporting the bearing, and a factor of safety value of 4,08 so it is safe to use. Static simulation on the design of 40 NB diameter lance tube with four thickness variations shows the highest max stress value, the highest max displacement, and the lowest factor of safety occurs in the lance tube thickness of 10,2 mm, which has a max stress value of 276,24 N/mm2, max displacement of 335,53 mm and a factor of safety 1,59. Lance tubes with a thickness of 10,2 mm can be declared safe because the value of the factor of safety meets the minimum limit for static loading.
References
SIVAKUMAR, E.R., GOWSHIKAN, M., KRISHNAMURTHY, V.P., "Root Cause Identification And Elimination Of Problems In Soot Blowers Of Chemical Recovery Boilersâ€, South Asian Journal of Engineering and Technology, v. 2, n. 22, pp. 31-41, 2016.
Bergemann, C. 2010. Sootblower Solutions. www.clydebergemann.de. Diakses: 18 November 2018.
SIHOMBING, H., Mekanisme Proses Pemanasan Air Di Dalam Boiler Dengan Mempergunakan Heater Tembahan Untuk Efisiensi Pembakaran, Karya Akhir, Universitas Sumatra Utara. Medan, 2009.
WIJAYANTI, C. I., SUTOPO, W., "Analisis Kelayakan Penggantian Nozzle SootBlower Pada PT Pjb Up Paiton Unit 1 Dan 2â€, Performa, v. 16, n. 1, pp. 26-35, 2017.
AL-SHEMMERI, T., Engineering Fluid Mechanics, 1st., Bookboon, 2012.
WIBOWO, T. A., RAHARJO, W. P., KUSHARJANTA, B., "Perancangan Dan Analisis Kekuatan Konstruksi Mesin Tekuk Plat Hidrolikâ€, Mekanika, v. 12, n. 2, pp. 63-70, 2014.
SETIAWAN, I., JUMARI., "Perencanaan Kontruksi Mesin Penggiling Dengan Sistem Roda Gigiâ€, Jurnal teknik mesin: v. 1, n. 2, 2007.
PURNAMA C. A., "Analisis Kegagalan Sootblower Terhadap Perpindahan Panas Di Pipa Boilerâ€, Jurnal Teknik Mesin, v. 6, n. 3, pp. 187-190, 2017.
CHERIF. K., FERROUDJI, F., "Stress and fatigue analyses under wind loading of the dual axis sun tracking system via finite element analysisâ€, Journal of Mechanical Engineering and Science, v. 10, n. 2, pp. 2008-2015, 2016.
SAGITA, D., "Desain Dan Konstruksi Mesin Penyemai Benih Sayuran Portabel Tipe Vakum Untuk Pembibitan Pada Talam Semaiâ€, Jurnal Rekayasa Mesin, v. 10, n. 3, pp. 265-275, 2019.
BASORI, RUDIANTO, "Analisis Konstruksi Rangka Alat Pengujian Pompa Menggunakan Program Catia V5â€, Jurnal Konversi Energi dan Manufaktur, v. 1, n. 2, pp. 88-93, 2014.
FAUZI, H., Analisis Tegangan Pada Frame Mobil Listrik Sinosi Menggunakan Metode Elemen Hingga, Skripsi, Universitas Jember, 2013.
Katalor, Shanghai Katalor Enterprises, http://www.katalor.com/products/angle-steel/din17100-specification-st37-2-low-carbon-equal-angle-steel-sizes-166.html, Diakses: 2018.
Nippon Steel, https://www.nipponsteel.com/en/product/pipe/list/05.html, Diakses: 2015.
SETYONO, B., MRIHRENANINGTYAS, HAMID, A., "Perancangan Dan Analisis Kekuatan Frame Sepeda Hibrid "Trisona†Menggunakan Software Autodesk Inventorâ€, Jurnal IPTEK, v. 20, n. 2, pp. 37-47. 2016.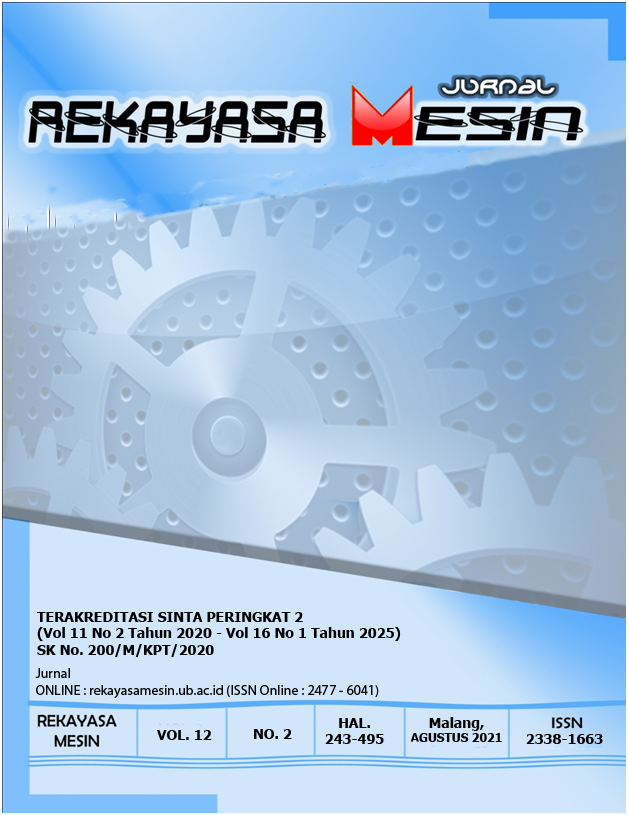 Downloads
License
This work is licensed under a 
Creative Commons Attribution-NonCommercial 4.0 International License
.