Pengaruh Pelat Penyerap terhadap Kinerja Solar Still di Kota Ngabang
Keywords:
Sollar Still, Plate Absorbent, Gravel, Black Paint
Abstract
The purpose of this study was to determine the effect of the use of black paint and gravel as an absorbent plate on solar still performance. This research was conducted to overcome the problem of limited clean water in the city of Ngabang, West Borneo. The research method used in this study is a direct experimental method for the object under study. Tests carried out on two solars still with a variety of absorbent plates, namely concrete coated with black paint and concrete coated with gravel. Surya is still made to have the same covering glass geometry. The duration of observation is 13 hours. Data collection is carried out every 10 minutes, starting at 06.00Â  until 19.00 local time. The results showed that concrete coated with gravel has higher performance compared to concrete coated with black paint as an absorbent plate on solar still. In the solar still, with gravel absorbent plates, the volume of distilled water is 3.64 L / 13 hours, and efficiency is 43.93%. Meanwhile, solar still coated with black paint as an absorbent plate producing a water volume of 2.42 L / 13 hours and an efficiency of 29.32%. The longer the observation time the sun's performance is still with gravel variations as an absorbent plate, the better it is compared to those who use black paint.
References
Tim Kesehatan Kabupaten Landak. (2015). Profil Kesehatan Kabupaten Landak. Diakses pada tanggal 21 juli 2018.
Peraturan Menteri Kesehatan Republik Indonesia No. 492/Menkes/Per/IV/2010 Tentang Persyaratan Kualitas Air Minum, Diakses pada tanggal 21 juli 2018.
KULDEEP H. NAYI, KALPESH V. MODI., Pyramida solar still: A comprehenshif review, Renewable and Sustainable Energy Reviews 81, 2018, pp 136-148.
AMITAVA BHATTACHARYYA., Solar still for desalination of water in rural households, International Journal of Environment and Sustainability, ISSN 1927-9566, Vol, 2, No. 1, pp.21-30, 2015.
ABDULLAH BILAL, BASHARAT JAMIL, NADEEM UL HAQUE, MD AZEEM ANSARI, Investigating the Effect of Pumice Stones Sensible Heat Storage on the Performance of A Solar Still. Groundwater for Sustainable develovment 9, 2019, 100228.
SAURABH YADAV, K. SUDHAKAR, Different Domestic Designs of Solar Still:Review, Renewable and Sustainable Energy Reviews at Science Direct 47, 2015, 718-731.
T. ARUNKUMAR, KAIWALYA RAJ, D. DSILVA WINFRED RUFUSS, DAVID DENKENBERGER, GUO TINGTING, LI XUAN, R. VELRAJ, A Review of Efficient High Productivity Solar Still, Renewable and Sustainable Energy Reviews 101, 2019, 197-220.
DNYANESHWAR SONAWANE, MANASI PATIL, ONKAR JADHAV, VISHVAJIT JAMBUTL, Research paper on enchancing solar still productivity by optimizing angle of PCM embedded absorber surface, International Journal of Science Technology & Engineering, Volume 2, Issue 2, Agustus 2015. ISSN (online):2349-784X.
TITIS ROSARI, WAHYONO HADI, ALI MASDUQI, Desalinasi Air Payau Menggunakan Energi Solar Dengan Parabolic Trough, Jurnal Purifikasi, Vol. 14, No. 1, Juli 2014: 55-64..
SUDJITO, Teknologi Tenaga Surya (pemanfaatan dalam bentuk energi panas), 2015.
SUDJITO, Alat Penyerap Panas Radiasi Matahari Dengan Lapisan Batu Kerikil, Nomor Hak Paten. P00200200648 ID P 0026349. 2013.
NASRI.B., BENATIALLAH. A.. KALLOUM, S., BENATIALLAH, D, Improvement of Glass Solar Still Perfomance Using Locally Available Materials in the Southern Region of Algeria, Groundwater for Sustainable Develovment (2019), doi:https://doi.org/10.1016/j.gsd.2019.100258.
A.E. KABEEL, MOHAMED M. KHAIRAT DAWOOD, KHALED RAMZY, TAMER NABIL, BASEM ELNAGHI, Enhancement of single solar still integrated with solar dishes An experimental approach, Energy Conversion and Management 196, 2019, 165-174.
RETA TRI WICAKSONO, Destilasi air energi surya vertikal dengan solar tracker, Skripsi, 2016.
Insight SMI, Sumber daya air Indonesia. 2017, Diakses pada tanggal 26 juli 2018.
A. MUTHU MANOKAR, DR. D. PRINCE WINSTON, Comparative Study Of Finned Acrylic Solar Still And Galvanised Iron Solar Still, Materials Today: Proceeding 4, 2017, 8323-8327.
DUFFIEN JOHN A., AND BEKMAN, WILIAM A., Solar Energy of thermal Procces; John Wiley and Sons, Inc, New Jersey, 3rd Edition, 2006.
MIETRA ANGGARA, DENNY WIDHIYANURIYAWAN, MEGA NUR SASONGKO, Pengaruh Ukuran Butir Pasir Besi Dan Volume Air Laut Pada Absorber Type Fins Solar Distillation Terhadap Produktifitas Air Tawar, Jurnal Rekayasa Mesin Vol. 7, No.3, Tahun 2016:135-143.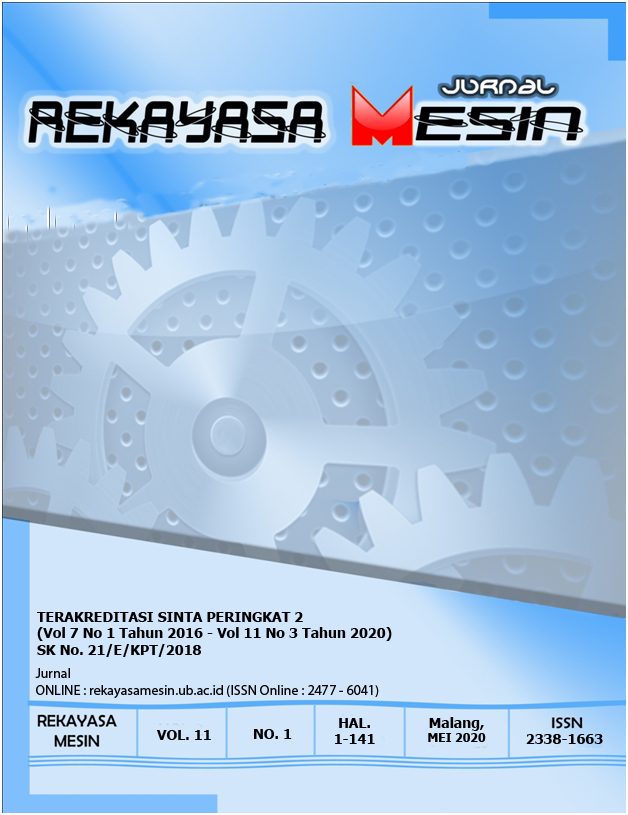 Downloads
License
This work is licensed under a 
Creative Commons Attribution-NonCommercial 4.0 International License
.