Mekanisme Aus Pahat Putar pada Pemesinan Magnesium AZ31
Keywords:
Magnesium, Carbide, Wear Mechanism, Rotary Tool, Abrasive
Abstract
Magnesium alloy is one of the most popular light material which was used in biomedical. Magnesium alloy is very light, resistant to corrosion and good biocompatible. However, magnesium alloy is  flammable, so it is effortless to burn. This research investigated the wear mechanism at the edge rotary cutting tool. The cutting tool used in this experiment is carbide insert with a diameter of 16 mm.  Pressured cooling air was used to reduce wear progression. The cutting parameters selected were workpiece speed at 80, 120 and 180 m/min, feed rate at 0.10, 0.15 and 0.20 mm/rev., tool speed at  25, 50 and 75 mm/min, and constant depth of cut at 0.3 mm. Tool wear and wear mechanism of the cutting tool were measured by using a microscope with particular magnification. Maximum wear  on the carbide cutting tool was 0.449 mm, which was achieved at the end of tool life. Dominant wear mechanism occurred at the cutting tool was abrasive wear. Some scratches were observed at  the edge of the tool as a result of hard particles. Another wear type that occurred was crater wear at the top area of the insert.  The wear on the cutting tool was due to the excessive heat generated  during the machining process, which was due to friction between the cutting tool and workpiece material.
References
PADMANAHAN, G., BALASUBRAMANIANA, V., MADHUSUDHAN REDD, G., Fatigue crack growth behaviour of pulsed current gas tungsten arc, friction stir and laser beam welded AZ31B magnesium alloy joints, Centre for Materials Joining & Research (CEMAJOR), Department of Manu-facturing Engineering, Annamalai University, Annamalai Nagar 608002, India, 2013.
IBRAHIM, G.A., "Identifikasi Nilai Kekasaran Permukaan pada Pemesinan Paduan Magnesiumâ€, Jurnal Mechanical, Vol 5, no 1, 11, 2014.
MAHRUDI, HARIS, YANUAR, B., Rancang Bangun Aplikasi Thermovision Untuk Pemetaan Distri-busi Temperatur Dan Permulaan Penyalaan Magnesium Pada Pembubutan Kecepatan Tinggi, Juru-san Teknik Mesin. Universitas Lampung, Bandar Lampung, 2013.
HARUN, S., "Cutting Temperature Measurement in Turning with Actively Driven Rotary Toolâ€, Key Engineering Materials, Vol. 389-390, pp. 138-14, 2009.
CHRISTOPHER, K. S., VINCE, K., HODGSON, M. A., "Biodegradable Surgical Implants based on Magnesium Alloysâ€, IOP Conference Series Materials Science and Engineering 4, Vol. 1, 2016.
PENG, W., LILI, T., "Surface Modification on Biodegradable Magnesium Alloys as Orthopedic Im-plant Materials to Improve the Bio-Adaptabilityâ€, Journal of Materials Science & Technology, Vol. 32, No. 9, pp. 827-834, 2016.
HARUN, S., YANUAR, B., Peningkatan Produktifitas dan Pengendalian Temperatur Pengapian Pemesinan Magnesium Dengan Sistem Pahat Putar (Rotary Tool System) dan Pendingin Udara (Air Cooling), Universitas Lampung, Bandar Lampung, 2012.
HARYANTO, B., Kajian Temperatur Pemotongan Pemesinan Bubut Menggunakan Pahat Potong Berputar (rotary cutting tool) Pada Material Paduan Magnesium AZ31, Laporan Tugas Akhir, Uni-versitas Lampung, 2015.
IBRAHIM, G.A., PULUNGAN, A. I., BURHANUDDIN, Y., "Unjuk Kerja Vortex Tube Cooler Pada Pemesinan Baja ST41â€, Jurnal Fema, vol 1, no 4, 2013.
TONSHOFF, H. K., DENKENA, B., Technology of magnesium and magnesium alloys, 2004.
KEIICHI, KAWATA, 2015. "Tool Wear in Turning of Inconel 718 with Rotary Cutting Toolâ€, Pro-ceedings Precision Engineering, 2015.
IBRAHIM, G.A., ARINAL, H., JAMIATUL, A., KMAL. "Keausan Mata Pahat Karbida Pada Pemesinan Inconel 718 Menggunakan Pelumas Berkwantitas Minimunâ€, Proceeding Seminar Na-sional Teknik Mesin XV. Bandung, 2016.
LUO, X., CHENG, K., HOLT, T., LIU, X., "Modeling flank wear of carbide tool insert in metal cut-tingâ€, 15th International Conference on Wear. Vol. 259, pp. 1235-1240, 2016.
IBRAHIM, G.A., BURHANUDDIN, Y., CHE HARON, C.H., GHANI, J.A., ARIFFIN, A. K., YASIR, A., EL-MAGHRIBI, N.H., "The Effects of CBN Cutting Tool Grades on the Tool Life and Wear Mechanism When Dry Turning of Titanium Alloyâ€, Asian International Journal of Science and Technology in Production and Manufacturing. Vol. 1, No.2, pp. 105-110, 2008.
KATO, S., YAMAGUCHI, K., NAKAMURA, T., "A study of rotary shaving by die type cutting toolâ€, Proceedings of the twenty third international machine tool design and Research Conference, 2016.
MURAT K., ERHAN, A., "Effects of process parameters on surface quality in turning of mild steel with rotary cutting toolâ€, Advance Material Research. Vols. 445, pp. 137, 2014.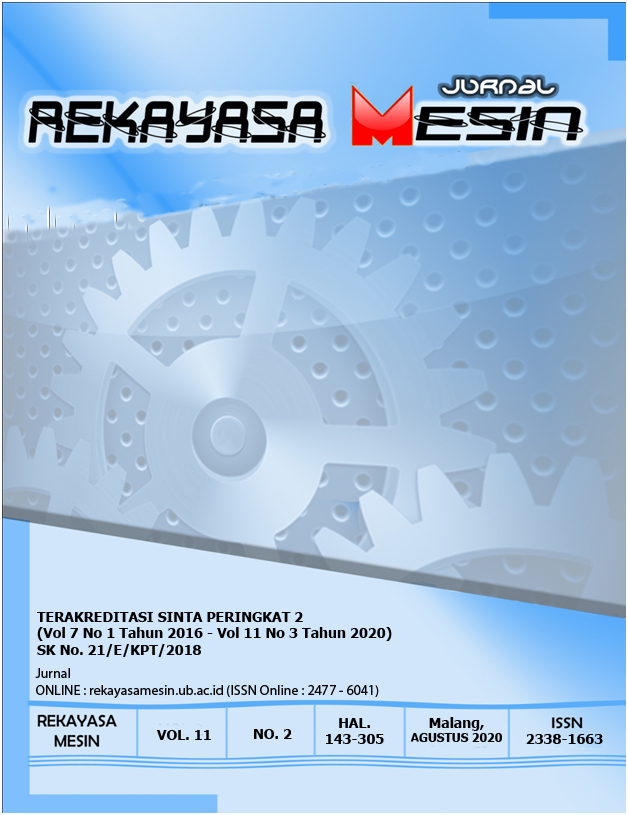 Downloads
License
This work is licensed under a 
Creative Commons Attribution-NonCommercial 4.0 International License
.