Pengaruh Hardening dengan Media Quenching Fluida Getah Pohon Pisang terhadap Struktur Mikro dan Komposisi Kimia Baja Karbon Sedang
Keywords:
Hardening, Medium Carbon Steel, Micro Structure, Chemical Composition
Abstract
The purpose of this study was to determine how the chemical composition and microstructure formed in medium carbon steel hardened with banana tree sap fluid compared to oil and water. The process of carbon steel hardening is being heated to the austenite area (850oC ) then held for 10 minutes after which it is cooled quickly (quenching). During the cooling process, it is also measured the cooling rate of the three cooling media. Hardening process material is carried out by microstructure observation using an optical microscope with 400x magnification and also chemical composition testing with SEM-EDX. The results for measuring the cooling rate of banana fluid have a fast cooling rate of 36.9oC/s while water is 16.6oC/s and oil is 7.0oC/s. In observing the microstructure of water it has an unstable micro structure that is still the structure of pearlite, this is because the temperature of the cooling media is too high during quenching. And for oil microstructure and banana fluid get a homogeneous structure, namely martensite and bainite. From the results of testing the chemical composition, it was seen that there was an increase in carbon content in steel after hardening and quenching with the three cooling media. Conclusion The hardening process by quenching oil and banana fluids has a homogeneous micro structure compared to water. Water cooling process has the highest carbon content increase of 1.53 %C from before 0.52 %C.
References
DIMU, R.J., Optimasi Hardening Baja Karbon Sedang Dengan Fluida Getah Pohon Pisang Menggunakan Metode Taguchi, Jurnal Rekayasa Mesin, v. 5, n. 2, pp. 135-140, 2014.
YUSMAN. F., Pengaruh Media Pendingin Pada Proses Quenching Terhadap Kekerasan Dan Strukur Mikro Baja AISI 1045, Skripsi Fakultas Teknik Universitas Lampung, (2018).
SMITH, J.L., RUSSEL, G.M., & BHATIA, S.C, Heat treatment of metal, v.1, Singapore: Alkem Company(S) Pte Ltd, 2009.
ABRIANTO, A., Analisis Struktur Mikro dan Sifat Mekanik Baja Mangan Austenitik Hasil Proses Perlakuan Panas, Jurnal Teknik Universitas Jendral Achmad Yani 8 (11), pp. 90-99, 2008.
ISMANHADI S.M., Pengaruh Media Pendingin pada Proses Hardening Terhadap Struktur Mikro Baja Mangan Hadfield AISI 3401 PT Semen Gresik, Jurnal Teknik Pomits, v.2, n.2, F. 224-227, 2013.
MUTIONO. A., Pengaruh Quenching Dan Tempering Terhadap Kekerasan Dan Kekuatan Tarik Serta Struktur Mikro Baja Karbon Sedang Untuk Mata Pisau Pemanen Sawit, Jurnal e-Dinamis, v.II, n.2, pp. 57-70, Sep. 2012.
YURIANTO, Optimasi Parameter Quenching dan Tempering Pada HRP Steel Lokal Sebagai Baja Amor Nasional, Jurnal Rekayasa Mesin, v.9, n.2, pp.143-148, 2018.
MARIA A.V.M, ABC's of Electrochemistry series Materials Characterization techniques: SEM and EDS, Department of Chemical and Biomolecular Engineering, OHIO University, Russ Colage of Enginering of Technologi, Nov. 2011.
KOZIN.M, Pengaruh Proses Perlakuan Panas Terhadap Sifat Mekanik Dan Struktur Mikro Roda Kereta Api Buatan Lokal, pp. 34, Tesis Ilmu Material, Universitas Indonesia, Jul. 2012.
CALISTER, WILLIAM D, Materials Science and Engineering, Departement of Mettalurgical Engginering The University of Utah, 2000.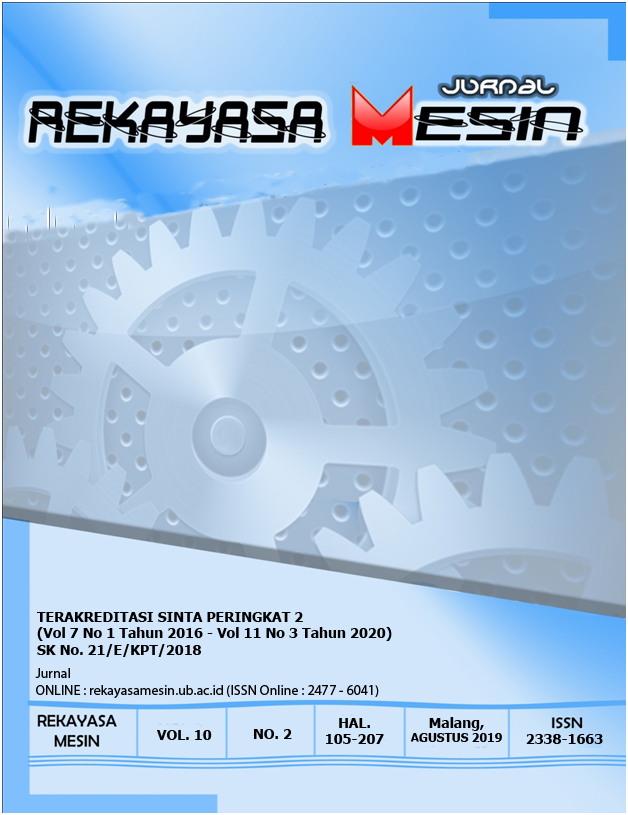 Downloads
License
This work is licensed under a 
Creative Commons Attribution-NonCommercial 4.0 International License
.