Pengaruh Temperatur terhadap Laju Reaksi Tar Hasil Pirolisis Serbuk Kayu Mahoni pada Rotary Kiln
Keywords:
Pyrolysis, Rotary Kiln, Kinetic Rate
Abstract
Pyrolysis is a thermochemical process chemical decomposition of organic substances through the heating process without oxygen. It produced char, tar, and gas. Rotary kiln Pyrolysis is horizontal stove with biomass that being moved in certain rotary along the stove. Biomass particle movement in rotary kiln concentrated at the wall of the kiln in the passive layer. This layer will reach the surface where the layer will move to the bottom of the active layer. This research is an experimental study done with temperature variation 2500 C, 350OC, 450OC,500OC and 600oC, the nitrogen flow rate 3 ml/min and the pyrolysis time is 180 minutes. The equipment that used is built and developed for better result of observation using rotary klin. The rotary kiln will rotate uses an electric motor with velocity 3 rpm. Then a kinetic rate enumeration process is done. The experiment result shows that the temperature is so influential to the tar volume, the higher the temperature, the more tar volume we got. The highest number is at temperature variation 500o C with heating rate 1073 km/hour. The number of tar kinetic rate that produced from enumeration shows that the higher the temperature so the kinetic rate resulted is greater and the analysis result shows that tar volume from the enumeration approximates the actual number of tar volume.
References
WIJAYANTI, WIDYA, KEN-ICHIRO TANOUE, "Char Formation and Gas Products of Woody Bio-mass Pyrolysisâ€. Elsevier Ltd. 2012.
ZANZI, R., X., Capdevila p. And Bjornbom e , September 23-27, 20001 Pyrolysis of Biomassa in Presence of Steam for Production of Activated carbon, Liquid and Gaseous Fuels, the World Congress Enginering.
FATIMAH, IS dan NUGRAHA JAKA, "Identifikasi Hasil Pirolisis Serbuk Kayu Jati Menggunakan Principal Component Analysisâ€. Jurnal Ilmu Dasar Vol. 6 No. 1, 2005: 41-47.
GEORGIOS SKODRAS, P. NATAS, P. NATAS, PANAGIOTIS BASINAS, PANAGIOTIS BASINAS, G.P. SAKELLAROPOULOS, "Effects of Pyrolysis Temperature, Residence Time on The Reactivity of Clean Coals Produced from Poor Quality Coalâ€. Global NEST Journal, Vol 8, No 2, pp 89-94. 2006.
EDMUND OKOROIGWE, ZHENGLONG LI, THOMAS STUECKEN, CHRISTOPHER SAFFRON, dan SAMUEL ONYEGEGBU, "Pyrolysis of Gmelina Arborea Wood for Bio-oil / Bio Char Production: Physical and Chemical Charaterisation and Productsâ€. Journal of Applied Science 12 (4): 369 374. 2012.
ALMUNADY T. PANAGAN dan NIRWAN SYARIF, "Uji Daya Hambat Asap Cair Hasil Pirolisis Kayu Pelawan (Tristania Albavata) Terhadap Bakter Echerichia Coliâ€. Jurnal Penelitian Sains Edisi Khusus Desember 2009.
A.M. FERNÃNDEZ, M.A. DÃEZ, R. ALVAREZ dan C. BARRIOCANAL, "Pyrolysis of Tyre Wasteâ€. 1st Spanish National of Conference on Advances in Materials Recycling and Eco-Energy, Madrid 12-13 November 2009.
SYLVIE CHARPENAY, MAREK A. WOJTOWICZ, dan MICHAEL A. SERIO, "Pyrolysis Kinetik of Waste Tire Constituents: Extender Oil, Natural Rubber, and Syrene-Butadiene Rubberâ€. Advanced Fuel Research, Inc., 87 Church Street, East Hartford, CT 06108-3742.
J.RATH, M.G.WOLFINGER, G.STEINER, G.KRAMMER, F.BARONTINI, dan V.COZZANI, "Heat of Wood Pyrolysisâ€. Fuel 82 (2003) 81-91 Elsevier, 2002.
KARLINASARI L, BAIHAQI H, MADDU A, MARDIKATO TR., "The Acoustical Properties of Indone-sian Hardwood Species, Makara Journal of Science Vol 16 No 2: pp. 110-114, Tahun 2012
NGADIANTO A, WIDOYORINI L, LUKMANDARU G., "Ketahanan Papan Partikel Limbah ayu Ma-honi dan Sengon Dengan Perlakuan pengawetan Asap Cair Terhadap Serangan Rayap Kayu Kering Cryptotermes Cynocephalus Lighit, Proseding Seminar Nasional Masyarsakat Penelitian Kayu Indone-sia (MAPEKI) XIV: pp. 213-219, Tahun 2012.
JAMILATUN S, SAKTI DK, FERDINANT., "Pembuatan Biocoal Sebagai Bahan Bakar Alternatif dari Batubara dengan Campuran Arang Serbuk Gergaji Kayu Jati, Glugu dan Sekam Padi, Prosiding Semi-nar Nasional Teknik Kimia "Kejuangan Pengembangan Teknologi Kimia untuk Pengolahan Sumber Daya Alam Indonesia Yogyakarta†: ISSN 1693 –4393: pp. DO4 1-6, tahun 2010.
KUMARAN D.C., "Pengaruh Penggunaan Katalis (Zeolit) Terhadap Kinetic Rate Tar Hasil Pirolisis Serbuk Kayu Mahoni (Switenia Macrophylla), Rekayasa Mesin Vol.6, No.1 Tahun 2015:19-25
Mulyadi, E., 2010 . Degradasi Sampah Kota (Rubbish) Dengan Proses Pirolisis Jurnal Ilmiah Teknik Lingkungan Vol.1 No.1. Universiata Pembangunan Nasional â€Vetran†Jawa Timur.
SUWANDONO., "Pengaruh Temperatur Terhadap Entalpi dan Kinetik Rate Gas Pirolisis Kayu Ma-honi, Jurnal Rekayasa Mesin Vol., No. Tahun 2015, SSN 0216-48X.
SUNARJO, SAJIMA, Optimasi Kondisi Oprasi Peleburan Konsentrat Zirkon Menggunakan Rotary Kiln. Heaat mass Transfer. DOI 10. 1007/s00231011-0764-1. Springer-Verlag, 2012.
TANAUE, KEN-ICIRO., HINAUCHI, TASUYA, OO, THAUNG, NISUMARA, TATSUO, TANIGUHI, MIKI, and SASUCHI, KENICHI., "Modeling of heterogeneous chemical reactions caused in pyrolysis of biomass particles, Japan : Advanced Powder Technol., Vol. 18, No. 6, pp. 825–84, 2007.
QIROM, I., Pengaruh Variasi Temperatur Terhadap Kuantitas Char Hasil Pirolisis Kayu Mahoni (Switania Macophylla). Rekayasa Mesin Vol. 6,No.1 2015:39-44, ISSN 2477-6041.
WIJAYANTI, W., "A Great Achievement of Calculated and Experimental Results of Char Kinetic Rate in Woody Mahogany Pyrolysis, MATEC Web of Conferences 159.02040(2018) IJCAET & ISAMPE 2017.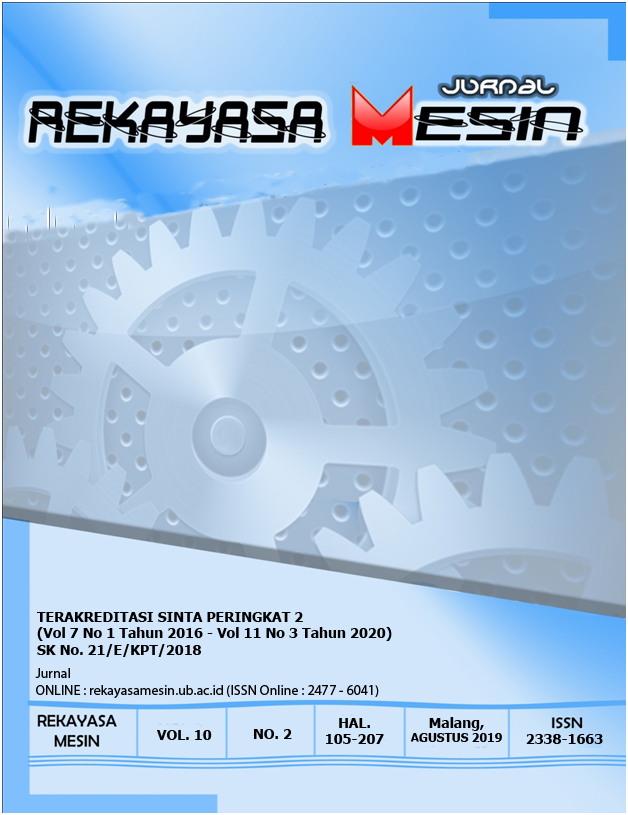 Downloads
License
This work is licensed under a 
Creative Commons Attribution-NonCommercial 4.0 International License
.