Analisis Pengaruh Temperatur, Waktu, dan Kuat Arus Proses Elektroplating terhadap Kekuatan Tarik, Kekuatan Tekuk dan Kekerasan pada Baja Karbon Rendah
Keywords:
Electroplating Process, Tensile Strength, Bending Strength, Hardness
Abstract
The researcher  has analyzed the effect of temperature, time, and electrical current of electroplating process  on tensile strength, bending strength and hardness of low carbon steel. The aim of this research is to know the effect of temperature, time, and electrical current as the parameters of electroplating process on tensile strength, bending strength and hardness of low carbon steel plate material treated using nickel and chrome coating materials. Coating process was operated with variations in temperature of 50 ° C, 55 ° C, 60 ° C; coating time of 5 minutes, 10 minutes, 15 minutes; and electrical currents of 4 A, 5 A, 6 A. Tensile strength and buckling tests were conducted using a versatile test machine (Universal Testing Machine) and hardness test with Vickers method. The tensile strength test results show that the higher temperature, time and electrical current during the coating process, give the greater of tensile strength value (from 307 N / m2 to 376 N /m2), as well as buckling strength testing.The smaller of buckling strength value from 11.5 kg / m2 to 7.5 kg / mm2. Hardness test results indicate a significant increase in the value of hardness in the temperature variation, time, and the electrical current coating, where the hardness value is from 89.3 HV to 100 HV.
References
Sutrisno, Pengaruh variasi waktu baja karbon rendah terhadap struktur mikro, nilai kekerasan, laju korosi dan nilai keausan spesifik, POLITEKNOSAINS VOL.XII NO.2, September 2013, h.10-19.
Richard Alfonso M. N.,Pengaruh temperatur dan waktu pelapisan nikel pada baja karbon, Skripsi, Jurusan Teknik Mesin, FT, USU, Agustus 2005.
M.Husna Al Hasa, Pengaruh Rapat Arus Listrik dan Waktu Electroplating Terhadap Ketebalan Lapisan Nikel Pada Foil Uranium, Urania, ISSN 0852-4777 ,Vol. 13 No., 1 Januari 2007: h.1-10
Bambang Santoso dan Martijanti Syamsa, Pengaruh Parameter Proses Pelapisan Nikel Terhadap Ketebalan Lapisan. Tugas Akhir Teknik Mesin, Fakultas Teknik, Universitas Jendral Achmad Yani, Bandung, 2007.
Alian, H., 2010, " Pengaruh Tegangan Pada Proses Electroplating Baja Dengan Pelapis Seng Dan Krom Terhadap Kekerasan Dan Laju Korosi ", ProseddingSeminar Nasional Tahunan Teknik Mesin (SNTTM) Ke-9 Palembang.2010,h.123-131
Raharjo, S., 2010, "Pengaruh Variasi Tegangan Listrik Dan Waktu Proses ElectroplatinTerhadap Ketebalan Serta Kekerasan Lapisan PadaBaja Karbon RendahDengan Kromâ€, Thesis, Universitas Diponegoro Semarang.2010
Basmal, Bayuseno, Sri Nugroho, Pengaruh waktu pelapisan tembaga- nikel pada baja karbon rendah secara elektroplating terhadap nilai ketebalan dan kekasaran-Rotasi- Vol. 14, No. 2, April 2012: 23 -28
Noor, E.A. and Al-Moubaraki,A.H., Corrosion Behavior of Mild Steel in Hydrochloric Acid Solutions. International Journal of Electrochemical Sciences, Volume 3, Page: 806 – 818. 2008.
Liping W., Yan Gao., Qunji X., Huiwen L., Tao X.. Microstucture and Tribological properties of electrodeposited Ni-Co alloy deposits. Applied Surface Science, Volume 242,Page : 326-332. 2005
Daniel O., Oghenedoro E., Oluleke O.,Effect of Some Process Variables on Nikel Electroplating of Low Carbon Steel,Leonardo Electronic Journal of Practices and Technologies ISSN 1583-1078, (2011), P.79-94.
Sarmed Abdalrasoul S., Abdalrasoul Salihh MAli Safa N., Study the Effect of Nikel Coating on Fatigue Life of Low Carbon Steel Exposed to Corrosive Environments, Journal of Environment and Earth Science , ISSN 2224-3216. Vol. 3, No.5, (2013), P.121-128.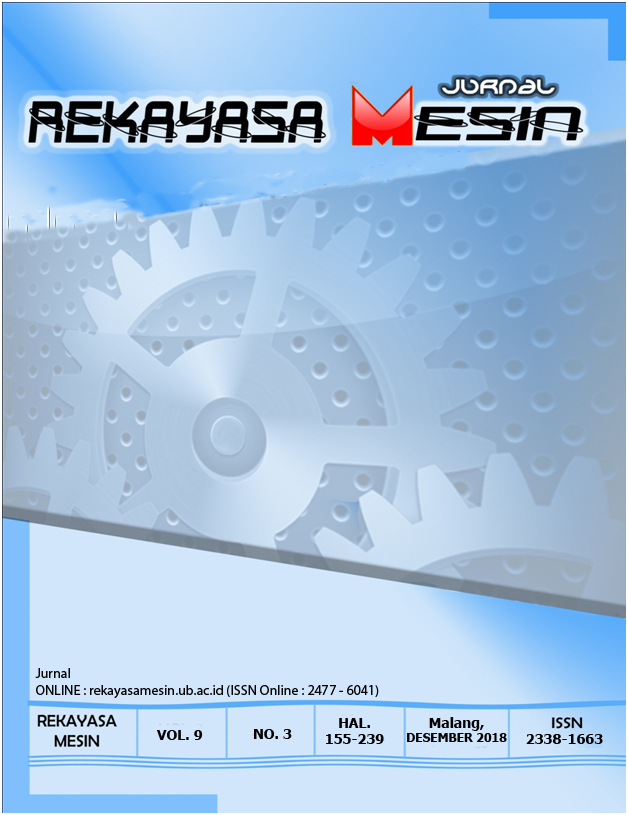 Downloads
License
This work is licensed under a 
Creative Commons Attribution-NonCommercial 4.0 International License
.