Analisis Pengaruh Holding Time terhadap Sifat Mekanis dan Struktur Mikro pada Proses Induction Tempering Batang Piston Baja SCM 420 H
Keywords:
SCM 420H Steels, Piston Rod, Induction Tempering, Microstructure
Abstract
Selection of materials connecting rod for a component or structure usually involves several aspects, there are aspects of specific strength, stiffness, lightweight, noncorrosive materials and resistance or age. In the manufacturing process connecting rod always give heat treatment such as Normalizing, Carburizing, and Induction Tempering. In the process, Induction Tempering has a big problem in hardness after the process, not stable and liable to over from standard. Process condition of tempering induction temperature in 650~700 C at 1 atm pressure, & holding time variation at 5, 10, 15, and 20 seconds. Kind of tests such as bending test, magna-flux, hardness, and structure micro. Bending test report fiber flow is straight, not broke because not found micro crack portension at body connecting rod. Hardness test result min point 23 HRC and max point 39,2 HRC base on standard range 25~44 HRC. The results of surface morphological observation show that the martensite phase causes hardness value to increase.
References
Altan, T ,Gracious N and Shen G, (2005), Cold and Hot Forging Fundamentals and Application, ASM Internasional
Beumer, B.J.M. ; Anwir, B.S. (1978), Ilmu Bahan Logam, Jilid III,Cetakan ke-2, CV. Bhratara, Jakarta
Budinski K.G., Michael K. Budinski,(1999), Engineering Materials : Properties and selection, Prentice Hall, New Jersey.
Danang, S.N., 2009, Pengaruh Kecepatan Torch dan Jenis Nyala Api terhadap Kekerasan Permukaan Baja karbon pada proses Automatic Flame Surface Hardening, Universitas Sebelas Maret.
De Garmo, P., (196 9), Materials and Processes in Manufacturing, Mac Millan Company, New York
Nurkhozin, M., 2006, Pengaruh Manual Flame Hardening, Universitas Sebelas Maret.
Smallman, R.E., J. Bishop, 1999, Metallurgi Fisik Modern dan Rekayasa Material, Jakarta : Erlangga.
Wahid, Ir, Perlakuan Panas, 2001, Diktat ITS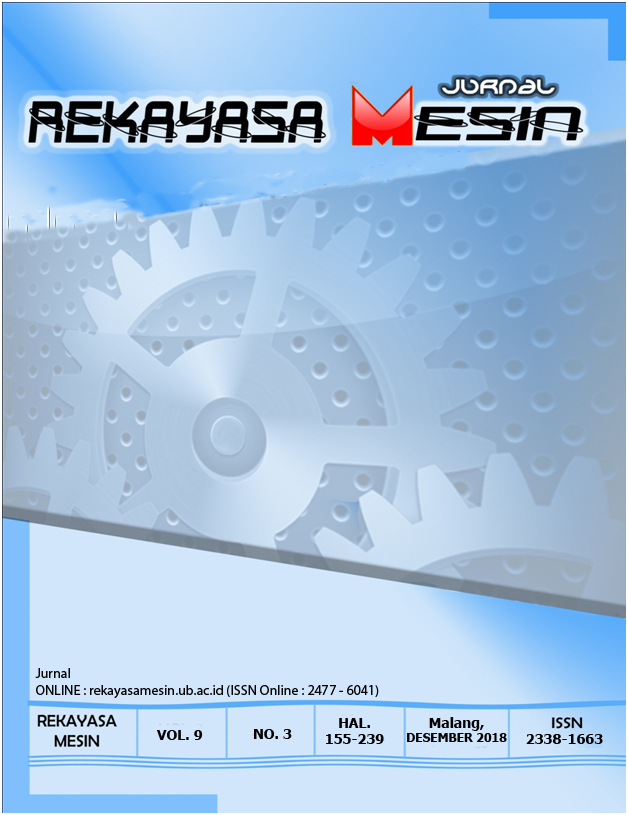 Downloads
License
This work is licensed under a 
Creative Commons Attribution-NonCommercial 4.0 International License
.