Pengaruh Mechanical Bonding pada Aluminium dengan Serat Karbon terhadap Kekuatan Tarik Fiber Metal Laminates
Keywords:
FMLs, Vacuum Infusion, Ra, Tensile Strength, Carbon Fiber, Mechanical Bonding, Sand Blasting
Abstract
Fiber metal laminates (FML) are composite structures fabricated by combining two layers of surface material with the core material. The outer surface of FML used in this composite is Aluminum with Al 1100 type. The FML core material uses carbon fiber. The fabrication process of the composites utilizes vacuum infusion method, in which the resin is infused into the mold with a vacuum condition. Bonds between the core and the surface layers are the variables affecting the strength of FML. In this research, the method used to increase the bonds between layers in FML was a mechanical method, it's called mechanical bonding. This method involved providing roughness (Ra) on the aluminum surface using sandblasting process to produce different roughness variables, with roughness value of 1,68 μm; 1,78 μm; 1,93 μm; 2,128 μm and 2,887 μm. The aim of this study was to examine the effect of aluminum surface roughness to the tensile strength of fiber metal laminates composites. The highest tensile strength of FML was obtained at 2,887 μm with a value of 367 MPa.
References
Smith Zeke (1996): Understanding Aircraft Composite Construction
Matthews & Rawlings (1993): Composite Materials : Engineering and Science
Book Standard ASTM D638-03 (2003): Standard Test Method For Tensile Properties Of Plastics. ASTM International
Kopeliovich & Dimitri (2012): Carbon Fiber Reinforced Polymer Composites, Wayback Machine.substech.com
Tata S. & Saito S. (1995): Pengetahuan Bahan Teknik
W.J. Cantwell & J. Morton., (1985):Detection of Impact Damage in CFRP Laminates,ElsevierComposite Structures 3 (3-4), 241-257
Tamer Sinmazcelik dkk. (2011):Fiber metal laminates, background, bonding, and applies test methods, 2011
W.J. Cantwell & J. Morton., (1991): The impact resistance of composite materials. Elsevier composites 22 (5), 347-362
W.D. Brouwer*, E.C.F.C. van Herpt, M. Labordus .(2003):Vacuum injection moulding for large structural applications. Elsevier LTD
Dimas Eko Prasetyo, (2015) : Analisis Perbandingan Metode Pengujian Kekasaran Permukaan pada Material Polimer Dan Komposit, Jurnal Rekayasa Mesin UB Vol 6 No 3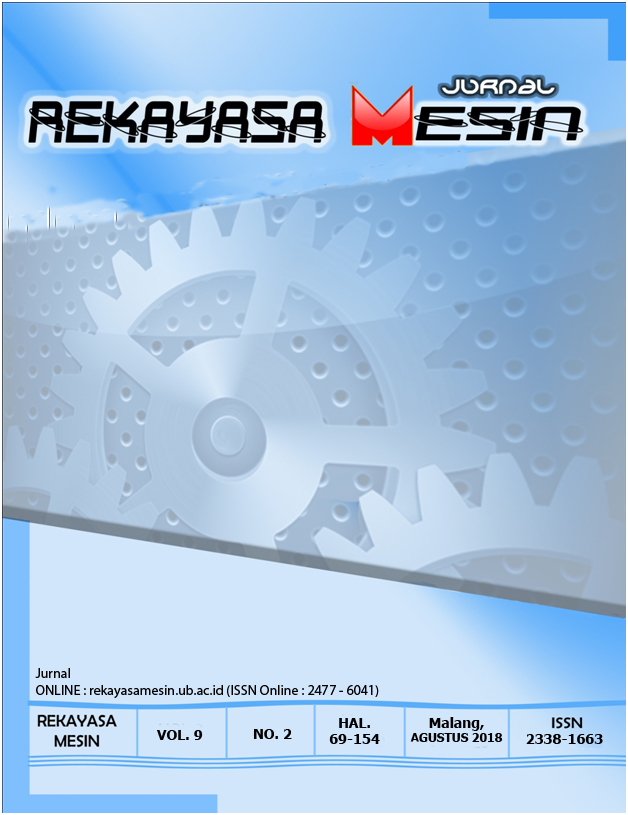 Downloads
License
This work is licensed under a 
Creative Commons Attribution-NonCommercial 4.0 International License
.