Pengaruh Variasi Sambungan pada Crash Box Multi Segmen terhadap Kemampuan Penyerapan Energi dengan Uji Quasi Static
Keywords:
Multi-Segment Crash Box, Quasi-Static Test, Energy Absorption
Abstract
Along with the elevating number of cars, accidents due to car crashes are increasing. Therefore, technology is needed to reduce the occurrence of the drivers' injuries. Crash box is one of the potential passive safety technology which is widely observed today. Crash box is installed between bumper and chassis, aims to reduce the cassualties when the car crashes. In this article, crash box research was conducted by real experimental method through quasi-static test to evaluate the energy absorption capability of circular-shaped multi-segment crash box. Crash box material was made from aluminum A6063. The connection on each segment is a chamfer with 45o angle. The connections between segments 1 and 2 were varied with 3 connection models, those are 1/4, 1/3 and 1/2 of the total length, i.e.120 mm. The results of the study showed that, the highest energy absorption obtained from the crash box with connection of 1/2 and the energy absorption is 5249.726 J. Crash box type of 1/4 and 1/3 exhibit energy absorption of 3886.238 J and 3106.027 J respectively. Generally, the deformation pattern on the crash box is mixed-mode (axisymmetric-diamond).
 
References
Badan Pusat Statistik. 2015. Statistik Transportasi Darat 2014. Indonesia : Badan Pusat Statistik.
I Putu Ali Putra. 2014. Mengenal Sistem Keselamatan Pada Mobil. Indonesia.
Velmurugan., dan Muralikanan. 2009. Energy Absorption Characteristics of Annealed Steel Tubes Of various Cross Sections in Static And Dynamic Loading. Latin American Journal Of Solids And Structutres, Volume. 6, 2009 : 385 – 412.
Wiryosumarto, H., Okumura, T. (1994). Teknik Pengelasan Logam. Jakarta. PT. Pradnya Paramita.
Jatmiko, A. (2014). Pengaruh variasi geometri crash box 2 segmen terhadap kemampuan menyerap energi impak dengan simulasi komputer. Tesis. Malang. Jurusan Teknik Mesin Universitas Brawijaya
J. Tanaskovic., dkk. 2014. Experimental Investigations Of The Shrinking – Splitting Tube Collision Energy Absorber, Journal Thin – Walled Structures. University of Belgrade, faculty of Mechanical Engineering, kralije, marije 16, belgrade, Serbia
Toksoy, A.K. 2009. Optimization of The Axial Crushing Behavior of Closed-Cell Alumunium Foam Filled Welded 1050 Al Square-Cross Section Crash Boxes. Thesis. Izmir : Izmir Institute of Technology
Asroni, Moch.Agus Choiron, Anindito Purnowidodo. 2014. Pengaruh Crash Box Berbentuk Tabung 2 Segmen terhadap Kemampuan Menyerap Energi Impak dengan Simulasi Komputer. Jurnal Rekayasa Mesin Vol.5, 2014: 201-207.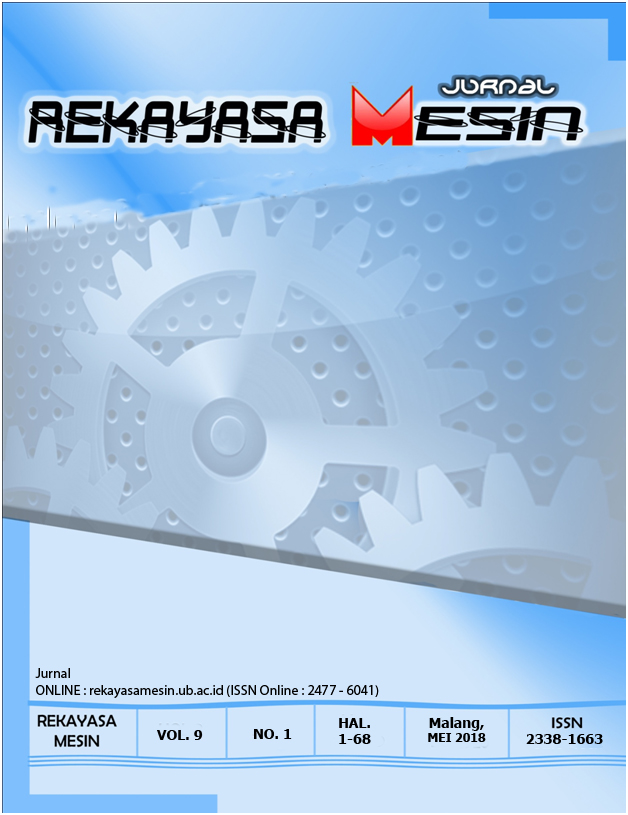 Downloads
License
This work is licensed under a 
Creative Commons Attribution-NonCommercial 4.0 International License
.