Efisiensi Sistem Pemanasan Air dengan Penerapan Selubung Bertingkat pada Perforated Burner
Keywords:
Stratified Sheath, Perforated Burner, Efficiency, Radiation
Abstract
One of the causes of inefficiency in the heating system by using a gas stove is radiation heat transfer. The application of stratified sheath is expected to reduce the heat loss. In this study an investigation conducted on a gas stove type perforated burner, by adding a stratified sheath. The parameters such as energy absorbed by water and energy produced by fuel are used to measure the performance of the heating system. The fuel is liquid petroleum gas (LPG) with a composition of 50% butane and 50% propane. The results show that the application stratified sheath on perforated burner at 0,0125 liter / sec has an average efficiency of 53,2% with the time required to boil 1,5 liters of water for 670 seconds, 36 seconds faster for the case perforated burner without stratified sheath and 80 seconds faster than conventional burner cases.
References
Anonymous. (2012). Conversion Oil to Gas, Reduce Subsidy for Long Term, Ministry and Mineral Resources of Republic of Indonesia.
Lontoh L., et al., 2015, Indonesia Energy Subsidy Review, International Institute for Sustainable Development, Issue 1. Volume 2. March 2015.
Widiandra, P., & Widodo, A.S. (2014), Effect of Materials Stove Cover to the Efficiency of Gas Stove Water Boiling System, Jurnal Rekayasa Mesin, Vol.5, No.3, 291-295, Brawijaya University.
Widodo, A.S., (2015) Jarak Optimum Panci Terhadap Selubung Pada Efisiensi Sistem Pemanasan Air, Jurnal Rekayasa Mesin Vol.6, No.1 Tahun 2015:69-73
Yu, B. et al., (2013), Combustion characteristics and thermal efficiency for premixed porous-media types of burners, Energy 53, pp. 343-350.
Muthukumar, P. et al. (2011), Performance analysis of porous radiant burners used in LPG cooking stove, International Journal of Energy and Environment Volume 2, Issue 2, 2011 pp.367-374
Jugjai S, & Rungsimuntuchart N. (2002), High efficiency heat-recirculating domestic gas burners. Experimental Thermal and Fluid Science ;26(5):581-92.
Pantangi V.K., et al., Studies on porous radiant burners for LPG cooking applications. Energy;36:6074-80
Widodo, A.S., (2016)., Peningkatan Efisiensi Sistem Pemanasan dengan Penambahan Grid pada Perforated Burner.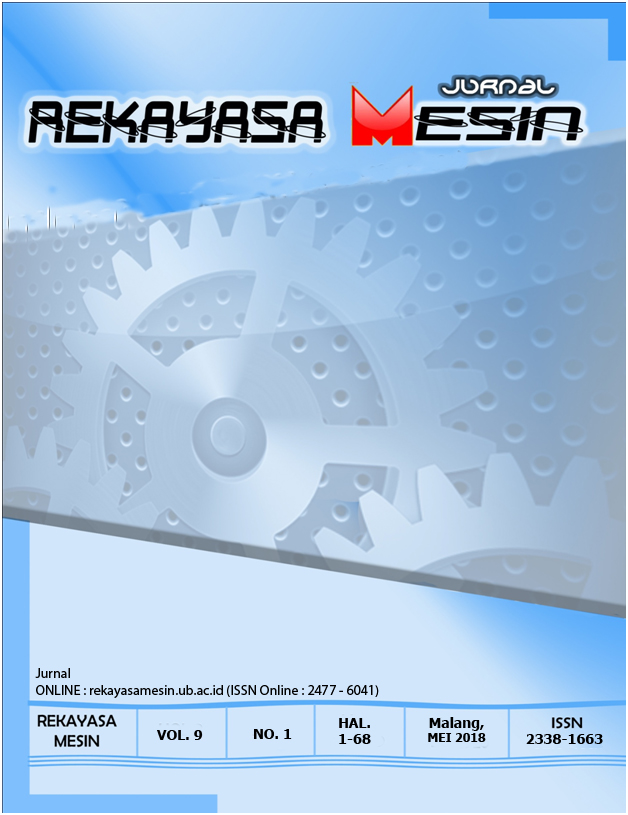 Downloads
License
This work is licensed under a 
Creative Commons Attribution-NonCommercial 4.0 International License
.