Analisis Perpindahan Panas pada Kolektor Pemanas Air Tenaga Surya dengan Turbulence Enhancer
Keywords:
Solar Water Heater Double Plate, Turbulence Enhancer, Heat Transfer, Energy Useful, Energy Losses
Abstract
One of the solar energy utilization is solar water heater. To improve the performance of solar water heater, modifications were applied to dual absorber plate and flow channels to increase heat absorption. The aim of this study is to analyze the heat transfer of the collector solar water heater with additional modifications turbulence enhancer. Flowrate of water were varied to 1500 ml/min, 1200 ml/min, 900 ml/min, and 700 ml/min. The result shown that  the highest collector energy loss (Qloss) and useful energy (Qu) are 92.23 Watt and 653.83 Watt, respectively, in a  volume flow rate of 700 ml/min and the total solar radiation of 672.78 W/m2. The useful energy (Qu) increase with reducing the volume flow rate of water. This is due to by reducing the volume flow rate, the heated water will expose longer to absorb the heat from absorber plate.
References
DAFTAR PUSTAKA
Farid, A. & Ismail, N. R. 2011. Pengaruh Pelat Penyerap Ganda Model Gelombang Terhadap Kinerja Solar Water Heater Sederhana. Widya Teknika. 19 (1): 12-15.
Mustafa & Ismail, N. R. 2009. Pengaruh Laju Aliran Air Menggunakan Pelat Penyerap Ganda Dan Konvensional Terhadap Kinerja Solar Water Heater. PROTON. 1 (1): 23-27.
Wiraradi, R. 2016. Pengaruh Turbulence Promoter Terhadap Efisiensi Pemanas Air Tenaga Matahari Pelat Ganda. Tugas Akhir. Tidak dipublikasikan. Malang: Universitas Brawijaya.
Nayak, U. K., Roy, S. C., Paswan, M. K. & Gupta, A. K. 2015. Heat Transfer and Flow Friction Characteristics of Solar Water Heater with Inserted Baffel Inside Tube. International Journal of Engineering Research & Science (IJOER). 1 (4): 33-38.
Garcia, A., Martin, R. H. & Garcia, J. P. 2013. Experimental Study of Heat Transfer Enhancement in a Flat-Plate Solar Water Collector with Wire-Coil Inserts. Applied Thermal Engineering. 61: 461-468.
Handoyo, Ekadewi Anggraini. 2001. Pengaruh Jarak Kaca Ke Plat Terhadap Panas Yang Diterima Suatu Kolektor Surya Plat Datar. JURNAL TEKNIK MESIN. 3 (2): 52-56.
Kristanto, P. & San, Y. K. 2001. Pengaruh Tebal Plat Dan Jarak Antar Pipa Terhadap Performansi Kolektor Surya Plat Datar. JURNAL TEKNIK MESIN. 3 (2): 47-51.
Akhtar, N. & Mullick, S. C. 2011. Effect of Absorption of Solar Radiation in Glass-Cover(s) on Heat Transfer Coefficients in Upward Heat Flow in Single and Double Glazed Flat-Plate Collectors. International Journal of Heat and Mass Transfer. 55: 125-132.
Setyadi, U. D. & Dwiyantoro, B. A. 2015. Pengaruh Sudut Kemiringan Kolektor Surya Pelat Datar terhadap Efisiensi Termal Dengan Penambahan Eksternal Annular Fin Pada Pipa. JURNAL TEKNIK ITS. 4 (1): 31-36.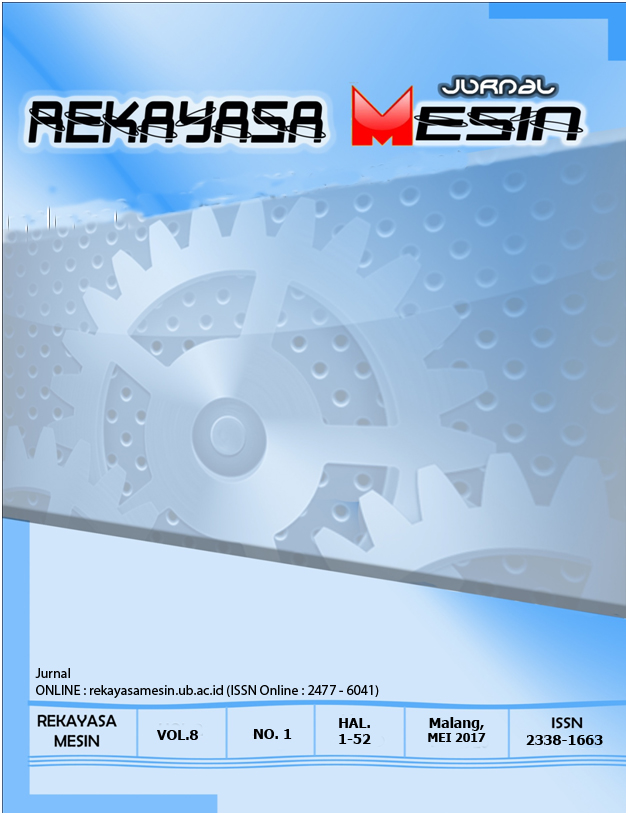 Downloads
License
This work is licensed under a 
Creative Commons Attribution-NonCommercial 4.0 International License
.