Analisis Kekuatan Bending dan Kekuatan Impact Komposit Epoxy Diperkuat Serat Pelepah Lontar
Keywords:
composite, lontar fiber, volume fraction, bending strength, impact strength
Abstract
Natural fibers have been considered as reinforcement in composite materials which is environmentally friendly fiber instead of fiberglass. The use of natural fibers in the composite material is currently growing, along with the increasing use of such materials are widespread ranging from household appliances and industrial sector. The aim of this research was to determine the impact strength and bending strength of lontar fiber composite. The production method of this composite is hand lay-up with random fiber orientation (randomly oriented fiber discontinuous). The composites were produced with a variety of fiber volume fraction of 10%, 15%, 20%, 25% and 30 %. The bending strength of lontar fiber composite 140.235 MPa and modulus of elasticity of 4440 Mpa were obtained. The impact strength of lontar fiber composite and fiberglass were 0.439J/mm2 and 0.8333 J / mm2 respectively.
References
Badan penelitian dan pengembangan kehutanan kementrian kehutanan, 2010. Lontar (Borassus Flabellifer) sebagai sumber energi bioetanol potensial
Lutony, T.L. 1993. Tanaman Sumber Pemanis. P.T.Penebar Swadaya, Jakarta.
Imra, Iswandi. (2009). Pengaruh Proses Vakum dan Variasi Tekanannya terhadap Sifat Tarik Komposit Serat Alam. Tugas Akhir, Jurusan Teknik Mesin, Universitas Andalas, Padang.
Budinski K.G. 1995. Engineering Material Properties and Selection, 4th, Prentice Hall,Inc A Simon and Schuster Company, USA.
Mahmud, Z., D. Allorerung dan Amrizal, 1991. Prospek tanaman kelapa, aren, lontar dangewang, untuk menghasilkan gula. Buletin Balitka No. 14. Balai Penelitian Kelapa. Manado.
Joseph, G.H.M.M, M. Rumokoi dan Z. Mahmud. 1990. Perbaikan teknik penyadapan nira lontar di Nusa Tenggara Timur. Buletin Balitka No. 11. Balai Penelitian Kelapa. Manado.
Callister, W. D. 1991. Material Science and Engineering an Introduction, John Willey and Sons Inc, New York.
Diharjo,K. 2008. Pengaruh Perlakuan Alkali terhadap Sifat Tarik Bahan Komposit Serat Rami-Polyester. Jurusan Teknik Mesin, Fakultas Teknologi Industri, Universitas Kristen Petra.
Jacobs, J.A. Kilduft T.K. 1994. Engineering Material Technology Structure, Processing, Property and Selection 2. Prentice Hall,Inc A Simon Schuster Company, USA.
ASTM D790 - 15e2. Standard Test Methods for Flexural Properties of Unreinforced and Reinforced Plastics and Electrical Insulating Materials.
ASTM D256 - 10e1. Standard Test Methods for Determining the Izod Pendulum Impact Resistance of Plastics.
Reddy K.O, Maheswari C.U, Rajulu, A.V and Guduri, B.R. 2009. Thermal Degradation Parameters and Tensile Properties of Borassus flabellifer Fruit Fiber Reinforcement. Journal of Reinforced Platics and Composites.
Venkatesha g. Prasanna and venkata k. Subbaiah. 2011. Chemical resistance and compressive properties of banana-palmyra fibers reinforced epoxy-unsaturated polyster blended composites. Abstarcts International J.of Multidispl.Research & Advcs. in Engg.(IJMRAE), Vol. 3, No. II, pp. 123-130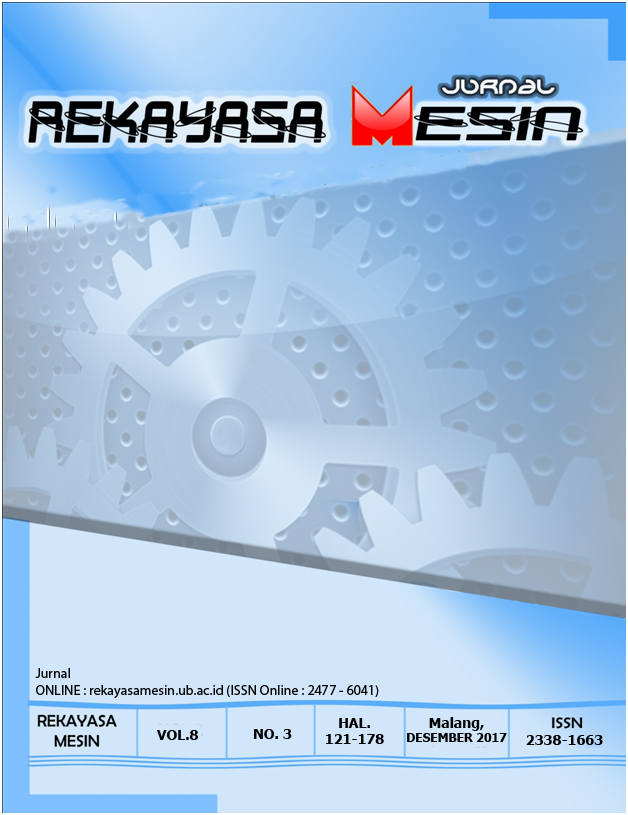 Downloads
License
This work is licensed under a 
Creative Commons Attribution-NonCommercial 4.0 International License
.