Optimasi Desain Gasket Karet Tipe Ring Profil C Flange Closed Groove dengan Metode Simulasi
Keywords:
C Profile Rubber Gasket, Taguchi Method, Contact Width, Contact Stress, Mooney-Rivlin
Abstract
Gasket is one of important part in piping system to prevent leakage, especially in connection between pipes. The purpose of this study was to determine the optimal design on C profile rubber gasket based on contact width considering contact stress. Design parameter in this study were lips thickness (t)= 4; 4,5; 5 mm, lips length (l)= 5; 5,5; 6 mm, outer diameter (Ro)= 6,5; 6,7; 6,9 mm and inner diameter (Ri)= 2,5; 3; 3,5 mm. The observed value is contact width considering contact stress due to flange tightening and its measure by using finite element-based software. Mooney-Rivlin mathematical model used as rubber material model. Based on data from the simulation results, it can be obtained by using Taguchi Method; lips thickness (t) = 4,5 mm, lips length (l) = 6 mm, Outer Radius (Ro) = 6,9 mm and Inner Radius (Ri) = 3,5 mm.
References
H.A Said, S. Izumi, S. Sakai, S. Haruyama, M. Nagawa, H. Noda, Development of New Metallic Gasket and its Optimum Design for Leakage Performance, Journal of Solid Mechanics and Material Engineering, pp. 105-114, 2008.
S. Haruyama, M.A. Choiron, K. Kaminishi, Study of Design Standard and Performance Evaluation on New Metallic Gasket, Proceeding of the 2nd International Symposium on Digital Manufacturing, Wuhan China, pp. 107-113, 2009.
M.A. Choiron, S. Haruyama, K. Kaminishi, Simulation and Experimentation on the Contact Width of New Metal Gasket for Asbestos Subtitution, International Journal of Aerospace and Mechanical Engineering, pp. 283-287, 2010.
Sun F S. Application of auto-seal mechanism in ultra-high pressure working condition, Hydraulic Pneum, vol 4, pp. 44–45, 1992.
X. Jia, H. Chen, X. Li, Y. Wang, L. Wang A Study on the Sealing Performance of Metallic C-Rings in Reactor Pressure Vessel, Nuclear Engineering and Design 278, pp. 64-70, 2014.
L. Baldassarre, M. Pelella, C-Type PTFE Gaskets Performance in High Pressure Sour Applications. Proceedings of the Forty-First Turbomachinery Symposium,2012.
J.T. Bauman (2008) Fatigue, Stress, and Strain of Rubber Components. Carl Hanser Verlag, Munich.
R.K. Roy (2001) Design of Experiments Using the Taguchi Approach : 16 Steps to Product and Process Improvement, John Wiley & Sons, Inc., U.S.
Blucher stainless steel drainage systems, Material Properties of Rubber Seals, http://www. blucherdrains.com/Resources/Technical/Rubber_Seal_Properties
G. Belforte, M. Conte, A.M. Bertetto, L. Mazza, C. Visconte (2009) Experimental and Numerical Evaluation of Contact Pressure in Pneumatic Seals. Tribology International, vol. 42, pp 169-175.
HTMS High Tech Metal Steel, Resilient Metal Steel, www.hightechmetalseals.com/catalogue/ htms-full-catalogue-english.pdf
Gasket Charactheristic. http://www.engineering toolbox.com/gaskets-properties-d_34.html.
M. Ma, W. Jia, Y. Bu, S. Guo, Study on Rubber Seal Design of Swellpacker in Oil Well Cementing, Open Acces Library Journal, 1: e1082, 2014.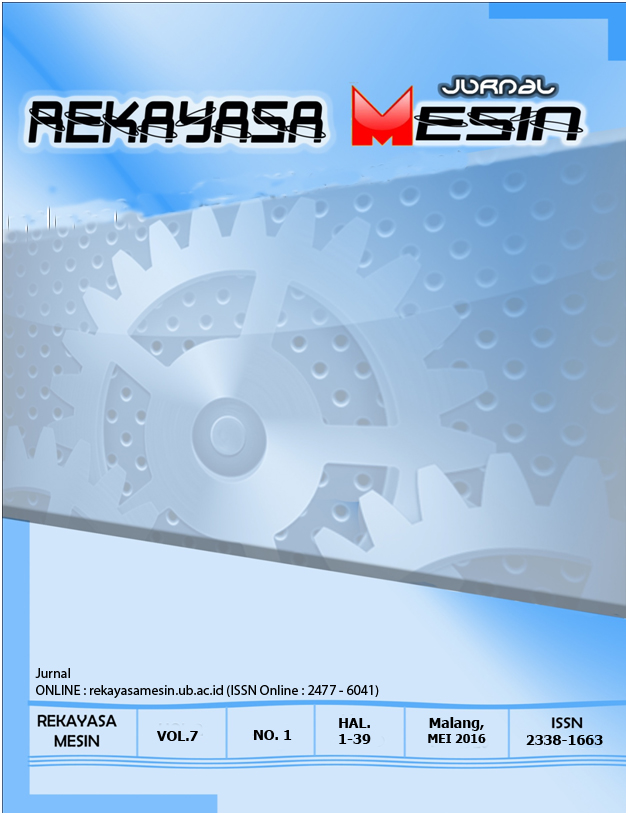 Downloads
License
This work is licensed under a 
Creative Commons Attribution-NonCommercial 4.0 International License
.