PENGARUH PERLAKUAN ALKALI TERHADAP SIFAT FISIS DAN MEKANIS SERAT LANTUNG (ARTOCARPUS ELASTICUS)
Keywords:
Alkali Treatment, Fiber Tensile Test, Lantung Fiber, XRD Test , SEM Photo
Abstract
Alkali treatment of natural fibers is one of the chemical treatments used to increase the exposed cellulose content through the removal of hemicellulose and lignin on the fiber surface. This study aims to investigate the effect of alkali treatment on the physical and mechanical properties of lantung fibers. The materials used in this          research consist of: lantung fiber (Artocarpus elasticus) with an alkali treatment process using 4% and 6% natrium hydroxide (NaOH) solutions and immersion time of 1 and 2 hours, at room temperature. The fiber neutralization process includes washing the fibers using fresh water and drying them at room temperature for 48 hours. Tests carried out include XRD test, SEM photo observations conducted at Balai Penelitian Teknologi Mineral, Lembaga Ilmu Pengetahuan Indonesia and fiber tensile test based on ASTM D 3379 standard. The results of XRD and fiber tensile test showed that alkali treated lantung fibers were effective in increasing the crystallization index (CI) value and fiber tensile strength. The highest CI values and fiber tensile strength were obtained at alkali treatment of 4% NaOH for 2 hours, respectively 85.42% and 228.5 MPa. The results of SEM photo observations showed that alkali treatment on the fiber surface could remove impurities based on the concentration of sodium hydroxide (NaOH) solution and soaking time. This shows that proper alkali treatment can increase the strength of lantung fibers.
References
PRISANTI, I. dan WIDIAWATI, D., "Eksplorasi multilayer pada kulit kayu dengan pewarna alam nila ( Indigofera tinctoria ) dan secang (Caesalpinia)", Jurnal Craft, vol. 3, no. 1, pp. 1-8, 2014.
ASTUTI, D., Pemanfaatan Kulit Kayu Lantung sebagai Bahan Pembuatan Sepatu Batik Wanita, Skripsi, Universitas Negeri Yogyakarta, Yogyakarta, 2015.
PRITHIVIRAJAN, R., BALASUNDAR, P., HYAMKUMAR, R., AL-HARBI, N.S., KADAIKUN-NAN, S., RAMKUMAR, T., and NARAYANASAMY, P., "Characterization of cellulosic fibers from Morus alba L. stem", Journal of Natural Fibers, vol. 16, no. 4, pp. 503-511. 2019
MANJULA, R., RAJU, N.V., CHAKRADHAR, R.P.S., and JOHNS, J., "Effect of Thermal Aging and Chemical Treatment on Tensile Properties of Coir Fiber", Journal of Natural Fibers, vol. 15, no. 1, pp. 112-121, 2018.
KIM, J.T., and NETRAVALI, A.N., "Mercerization of sisal fiber: effect of tension on mechanical properties of sisal fiber and fiber-reinforced composites", Composites: Part A, vol. 41, pp. 1245 -1252, 2010.
BLEDZKI, A. K., and GASSAN, J., "Composites reinforced with cellulose based fibres", Progress in Polymer Science, vol. 24, pp. 221–74, 1999.
ABRAHAM, E., DEEPA, B., POTHEN, L., CINTIL, J., THOMAS, S., JOHN, M.J., and NARINE, S.S., "Environmental friendly method for the extraction of coir fibre and isolation of nanofibre", Carbohydrate Polymers, vol. 92, pp. 1477–1483, 2013.
DIXIT, S., and VERMA, P., "The effect of surface modification on the water absorption behavior of coir fibers", Advances in Applied Science Research, vol. 3, pp. 1463–1465, 2012.
ALI, M., "Natural fibres as construction materials", Journal of Civil Engineering and Construction Technology, vol. 3, pp. 80–89, 2012.
WITONO, K., IRAWAN, Y. S., SOENOKO, R., dan SURYANTO, H., "Pengaruh perlakuan alkali (NaOH) terhadap morfologi dan kekuatan tarik serat mending", Jurnal Rekayasa Mesin, vol.4, no.3, pp. 227-234, 2013.
LE TROEDEC, M., SEDAN, D., PEYRATOUT, C., BONNET, J.P., SMITH, A., GUINEBRETIERE, R., GLOAGUEN, V. dan KRAUSZ, P., "Influence of Various Chemical Treatments on the Composition and Structure of Hemp Fibres", Composites: Part A, vol. 39, pp. 514-522, 2008.
CAI, M., TAKAGI, H., NAKAGAITO, A.N., KATOH, M., UEKI, T., WATERHOUSE, G.I.N., and LI, Y., "Influence of alkaline treatment on internal microstructure and tensile properties of abaca fiber", Industrial Crops and Products, vol. 65, pp. 27–35, 2015.
NISHIYAMA, Y., KUGA, S., and OKANO, T., "Mechanism of mercerization revealed by X-ray diffraction", Journal of Wood Science, vol. 46, pp. 452–457, 2000.
ERDOGAN, U.H., SEKI, Y., AYDOGDU, G., KUTLU, B., and AKSIT, A., "Effect of Different Surface Treatments on the Properties of Jute", Journal of Natural Fibers, vol. 13, pp. 158–171, 2016.
ARIAWAN, D., RIVAI, T. S., SUROJO, E., HIDAYATULLOH, S., AKBAR, H.I., and PRABOWO, A.R., "Effect of alkali treatment of Salacca Zalacca fiber (SZF) on mechanical properties of HDPE composite reinforced with SZF", Alexandria Engineering Journal, vol. 59, pp. 3981–3989, 2020.
HESTIAWAN, H., JAMASRI, and KUSMONO, "Effect of chemical treatments on tensile properties and interfacial shear strength of unsaturated polyester/fan palm fibers", Journal of Natural Fibers, vol. 15, no.5, pp. 762-775, 2018.
ZHOU, L. M., YEUNG, K.W.P., and YUEN, C. W., "Effect of NaOH marcerization on the crosslinking of ramie yarn using 1,2,3,4-butanetetracarboxylic acid", Textile Research Journal, vol. 72, no. 6, pp. 806 – 812, 2002.
KALIA, S., KAITH, B.S., and KAUR, I., "Pretreatments of natural fibers and their application as reinforcing material in polymer composites – a review", Polymer Engineering & Science, vol. 49, pp. 1253–1272, 2009.
RAHMAN, M.M., and KHAN, M.A., "Surface treatment of coir (Cocos nucifera) fibers and its influence on the fibers' physico–mechanical properties", Composites Science and Technology, vol. 67, pp. 2369–2376, 2007.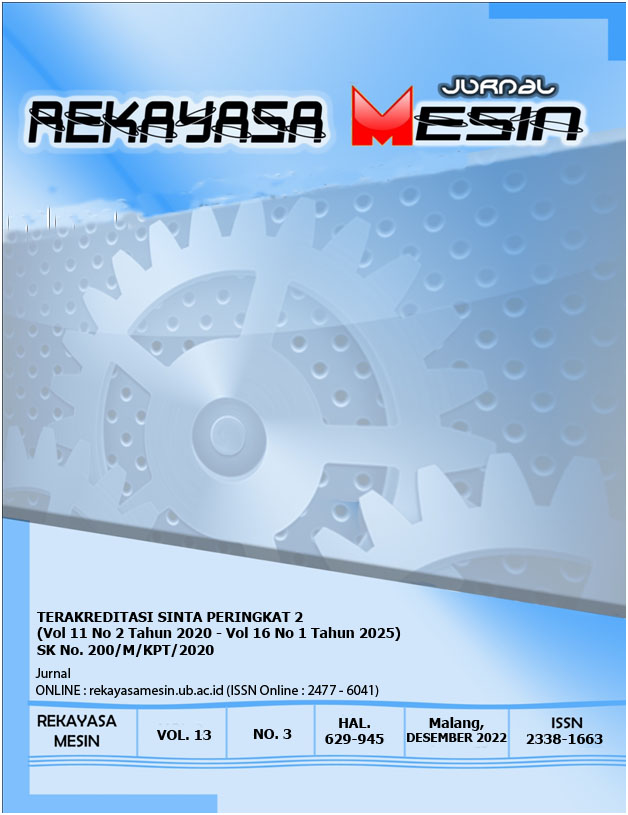 Downloads
License
Copyright (c) 2022 Hendri Hestiawan, Dody Ariawan, Khairul Amri, Agus Nuramal, Aditya Afrizal, Sudibyo Sudibyo
This work is licensed under a Creative Commons Attribution-NonCommercial 4.0 International License.
This work is licensed under a 
Creative Commons Attribution-NonCommercial 4.0 International License
.