PERANCANGAN TEKANAN UDARA POSITIF PADA KABIN MOBIL MSSC (MOBILE SWAB SAMPLING CHAMBER)
Keywords:
Design, Protective Isolation Room, Positive Air Pressure, CFD, MSCC
Abstract
MSSC (Mobile Swab Sampling Chamber) car should have a fulfilling requirement as a protective isolation room or positive pressure room. A positive pressure room is needed so the virus or bacteria that is carried by the patient outside the car could not enter and contaminate the medical officer inside the car. Based on that need, the MSSC car is designed so that it can be used as a swab test sampling and having a positive pressure. The designing process was started by assembling each part of the car cabin that was used as an examination tool and positive pressure maker. This design was then simulated using the CFD method to find out whether the car cabin design produces positive pressure. The velocity of the AC blower and the percentage of exhaust openings were varied so that suitable air pressure was obtained. Based on the analysis of the simulation results, it was known that the design of the car cabin that had been done could produce positive air pressure. This positive air pressure was obtained when the blower speed was low and the exhaust opening was 100%. The value of air pressure under these conditions was 101019 Pa or +19 Pa from the ambient air that have 101000 Pa in Yogyakarta.
References
WORLD HEALTH ORGANIZATION scientific brief, who.int, https://www.who.int/news-room/commentaries/detail/modes-of-transmission-of-virus-causing-covid-19-implications-for-ipc-precaution-recommendations. Diakses: Januari 2021.
ATKINSON J., CHARTIER Y., PESSOA-SILVA C.L., JENSEN P, LI Y., SETO W., Natural ventilation for infection control in health care settings, 1 ed, , Geneva, WHO, 2009.
KOENIGSHOFER, D., MURPHY, J., et al., Design Manual for Hospitals and Clinics, 2nd ed, ASHRAE: Atalanta US, 2013.
TI, K.L., ANG, L.S., FOONG, T.W., NG, B.S.W., "What we do when a COVID-19 patient needs an operation: operating room preparation and guidance", Canadian Journal of Anesthesia, v. 67, n. 6, pp. 756-758, Jun 2020.
WONG, J., GOH, Q.Y., TAN, Z., LIE, S.A., TAY, Y.C., NG, S. Y., SOH, C. R., "Preparing for a COVID-19 pandemic: a review of operating room outbreak response measures in a large tertiary hospital in Singapore", Canadian Journal of Anesthesia, v. 67, n. 6, pp. 732–745, Jun 2020.
RACHMAT, Analisis kinerja dan perancangan sistem tata udara ruang operasi berdasarkan standar ashrae 170 dan ISO 14644-1, Universitas Indonesia, Depok, Jawa Barat, 2017.
Centers of Disease Control and Prevention (CDC), https://www.cdc.gov/infectioncontrol/guidelines/environmental/background/air.html#c5a. Diakses: Januari 2021.
GONZALEZ-BROWN, V., M., RENO, J., LORTZ, H., FIORINI, K., COSTANTINE, M., M., "Operating room guide for confirmed or suspected covid-19 pregnant patients requiring cesarean delivery", American Journal of Perinatology, v. 37, n. 8, pp. 825-828, Jun 2020.
WAX, R.S., CHRISTIAN, M.D., "Practical recommendations for critical care and anesthesiology teams caring for novel coronavirus (2019-nCoV) patients", Canadian Journal of Anesthesia, v. 67, n. 5, pp. 568–576, May 2020.
HERRICK, M., Health Facilities Management Magazine, https://www.hfmmagazine.com/articles/2671-planning-and-maintaining-hospital-air-isolation-rooms. Diakses: Desember 2020
VERSTEEG H.K., An Introduction to Computational Fluid Dynamics, England, Longman Scientific & Technical, 1995.
DATE, A.W., Introduction to Computational Fluid Dynamics, 1sted., Cambridge Univ Press, Aug 2005.
SYAMSURI, LILLAHULHAQ Z., YUSRON M., "Simulation of Fluid Flow Through Sedan Car YRS 4 Doors with Speed Variation Using CFD", Jurnal Rekayasa Mesin, v.11, n.3, pp. 395-400, 2020.
HIDAYAT, A., M., F., ARIYADI, H., M., MUFLIKHUN, M.A., "The Evaluation Of Mesh Characteristics Of The Car Modeling And Simulation Using Cfd Analysis", Jurnal Rekayasa Mesin, v.13, n.1, pp. 129-140, 2022.
SOELAIMAN, T.A.F., ARITONANG, A., "Analisis Sistem Tata Udara di Dalam Kabin Kendaraan Minibus Dengan Menggunakan Perangkat Lunak Computational Fluid Dynamics", Mesin, v.20, n.1, pp. 6-14, 2017.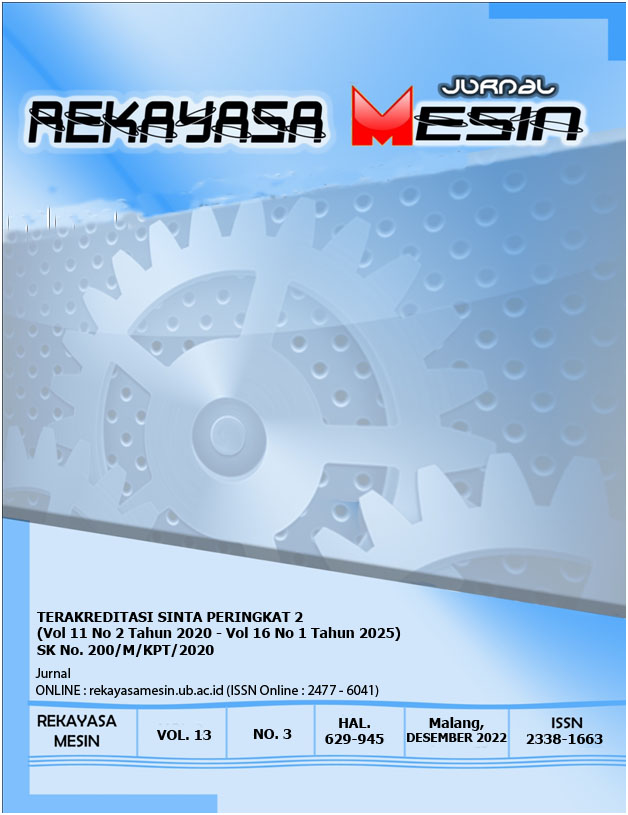 Downloads
License
Copyright (c) 2022 Fahmi Rais, Radhian Krinsnaputra, sugiyanto sugiyanto, F.X. Sukidjo, Stephanus Danny Kurniawan, Isworo Djati
This work is licensed under a Creative Commons Attribution-NonCommercial 4.0 International License.
This work is licensed under a 
Creative Commons Attribution-NonCommercial 4.0 International License
.