Studi Distribusi Temperatur Pada Kulit Manusia yang mengalami Cryotherapy dengan Finite Difference Method (FDM)
Keywords:
Temperature Distribution, Cryotherapic, Bioheat Transfer, Finite Difference Method
Abstract
Biological heat transfer studies the transfer of heat in biological systems from inside the human body or from outside to inside the body. The biological heat transfer equation uses the Pennes equation, which applies to the layers of skin made up of the epidermis, dermis, fat, and muscle. This investigation solves the biological heat transfer equation to obtain a one-dimensional unstable temperature distribution in human skin layers subjected to cryotherapy with cold packs at temperatures of 278 K and 283 K using the finite difference method (FDM). The results show that cold compresses influence the temperature distribution on human skin due to the very significant temperature difference between the heat sink temperature and the core temperature of the human body. The greater the temperature difference, the more significantly the temperature distribution in human skin decreases. This is due to the heat transfer that occurs due to two temperature differences, namely the core temperature of the body and the temperature of the cold substance, and is also favored by differences in thermal conductivity, density, and specific heat. that exist in every layer of the skin.
References
PENNES, H. H. Analysis of Tissue and Arterial Blood Temperature in The Resting Human Fore-arm, Journal of Applied Physics. v.1, n.2, pp. 93-122, 1948.
KANITAKIS, J. Anatomy, histology and immunohistochemistry of normal human skin. Europian Journal of Dermatology. v.12, n.4, pp. 390-399, 2002.
VALVANO, W. J., Bioheat Transfer, in Encyclopedia of Medical Devices and Instrumentation. 2nd edition. The University of Texas. 2005.
SABILA, Y. A. Krioterapi Dermatologi. Jurnal Ilmiah Kesehatan Sandi Husada. Jurnal Ilmiah Kesehatan Sandi Husada. v.10. n 2, pp. 299-303, 2019.
KRISTANTO, A DAN AROFIATI. Efektifitas Penggunaan Cold Pack dibandingkan Reklaksasi Nafas Dalam untuk Mengatasi Nyeri Pasca Open Reduction Internal Fixation (ORIF). Indonesian Journal of Nursing Practices. v.1, n.1, pp. 68-75, 2016.
CHESTERTON, L.S, FOSTER, N.E, ROS, L. Skin Temperature response of cryotherapy, Archieves of Physical Medicine and rehabilitation. v.8, Issue.4, pp.543-549. April 2002.
PALMER, J.E. AND KNIGHT, K.L. Ankle and thigh skin surface temperature changes with repeated ice pack application. J Athl Train .v.31, pp. 319-23, 1996.
CASTELLO, J.T. CULLIGAN, K. SELFEN, J. DONNELLY, A.E. Muscle, Skin and Core Temper-ature after −110°C Cold Air and 8°C Water Treatment. PloS One. v.7.n.11, pp.1-11, 2012
BOERNER, E, PODBIELSKA, H. Application of thermal imaging to assess the superficial skin temperature distribution after local cryotherapy and ultrasound. Journal of Thermal Analysis and Calorimetry. v.131, pp. 2049–2055, 2018.
BABITA KUMARI AND NEERU ADLAKHA. One Dimensional Finite Difference Model to Study Temperature Distribution in Peripheral Regions of a Human Body During and After Exer-cise. Journal of Medical Imaging and Health Informatics. v.3. n.2, pp. 179-186. June 2013.
GURUNG, D.B AND SHRESTHA, D.C. Mathematical Study of Temperature Distribution in Human Dermal Part during Physical Exercises. Journal of the Institute of Engineering, v.12. n.1, pp. 63-76. 2016.
AGRAWAL, M AND PARDASANI, K.R. Finite element model to study temperature distribution in skin and deep tissues of human limbs, J Therm Biol. v.62, pp. 98-105. Juni 2016
AGRAWAL. M, PARDASANI, K.R. ADLAKHA, N. Steady state temperature distribution in dermal regions of an irregular tapered shaped human limb with variable eccentricity. J Therm Biol. v.44, pp. 27-34. August 2014.
CENGEL, YA AND GHAFAR, A.J. Heat And Mass Transfer: Fundamentals & Applications, Fifth Edition. Published by McGraw-Hill Education, New York, 2015.
BULIŃSKI, P. ADAMCZYK, W. OSTROWSKI, Z. Bioheat transfer Model with Active Ther-moregulation: Sensitivity of Temperature Field on Tissue Properties. Biomedical Engineering Lab. Innovations in Biomedical Engineering pp. v.256, 259-266, 2016.
LY, Y.G. & LIU J. Effect of transient temperature on thermoreceptor response and
thermal sensation. Building and Environment, Vol. 42: 656-64. 2007.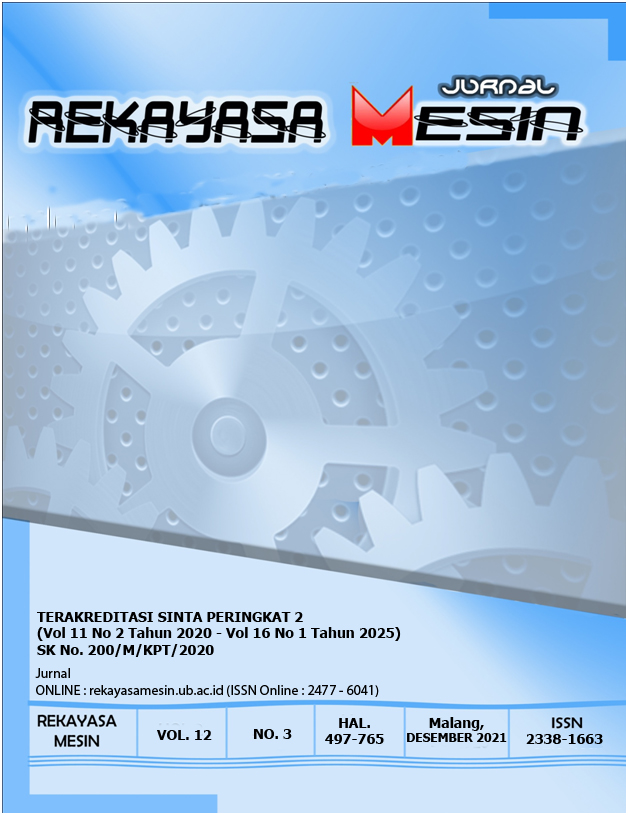 Downloads
License
Copyright (c) 2022 Slamet Wahyudi
This work is licensed under a Creative Commons Attribution-NonCommercial 4.0 International License.
This work is licensed under a 
Creative Commons Attribution-NonCommercial 4.0 International License
.